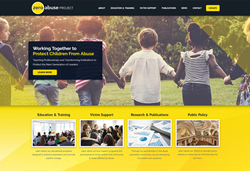 "We are very excited to give our constituents a window into the full world of Zero Abuse Project and all of our efforts to protect kids." Jeff Dion, CEO
ST. PAUL, Minn. (PRWEB) April 12, 2019
Zero Abuse Project (ZAP) is a 501(c)(3) organization committed to transforming institutions in order to effectively prevent, recognize, and respond to child sexual abuse. ZAP and its Minneapolis-based program Jacob Wetterling Resource Center (JWRC) launched a new website to facilitate training, provide resources, and offer the latest information in child abuse prevention.
The new ZAP website is divided into four sections: Education & Training, Victim Assistance, Research & Publications, and Public Policy. The goal is to make information and resources widely accessible for those seeking to learn more about the different ways ZAP and its programs are working to end child abuse.
"We are very excited to give our constituents a window into the full world of Zero Abuse Project and all of our efforts to protect kids," Jeff Dion, CEO
The website will also be a place for individuals who have been affected by child abuse and maltreatment to find community and support. Interested community members can contribute to the organization, learn about upcoming events, and sign up to volunteer to join ZAP in making this world a safer place for children.
Please visit us: http://www.zeroabuseproject.org or http://www.jwrc.org
Mark your calendar- coming up on Sunday, September 29th, 2019 is JWRC's 4th Annual Running HOME for Jacob run/walk event in St. Paul, Minnesota. All proceeds from this event are used to provide prevention education for child abuse and maltreatment to families and communities! To register- please visit: http://race.jwrc.org
For more information call:
Minnesota Office/ JWRC: (651) 714-4673
Or email: info@zeroabuseproject.org
Press Contact: Mitchell Kuhlman, email: mitchell@zeroabuseproject.org; office: 571-312-9811