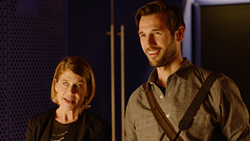 "People around the world are in isolation. This seemed like a fun, unconventional way to give viewers a laugh, some escapism, and to feel connected. That's an essential part of our job, and in these difficult times it is our responsibility," said writer and director Elias Plagianos
NEW YORK (PRWEB) March 27, 2020
On April 1st at 9pm, Zero Channel, in partnership with The North Fork Television Festival, will be early releasing the in-development comedy series pilot "Shoot Me Nicely" starring John Behlmann, Linda Hamilton, and William Sadler as part of a "Create. Share. Connect." campaign during our unprecedented health crisis. The Campaign aims to provide engaging original content to audiences as they are encouraged to stay at home during the COVID-19 pandemic. The premiere will be streamed live with cast and crew doing a side by side chat with viewers by going to http://www.createshareconnect.com, where they can also set reminders for the live broadcast.
The pilot, which was named "Best Independent TV Pilot" by Sky TV, Europe's largest broadcaster, explores the New York City art and fashion world through the eyes of photographer Sean Wheeler (John Behlmann). After losing his cushy magazine job, and his superstar status, Sean is forced to take odd jobs to pay the bills and his rent. Meanwhile, his agent Layla (Linda Hamilton), has been working overtime to sell Sean's paparazzi pics as she attempts to get him back into the spotlight of the fashion world.
"People around the world are in isolation. This seemed like a fun, unconventional way to give viewers a laugh, some escapism, and to feel connected. That's an essential part of our job, and in these difficult times it is our responsibility," said writer and director Elias Plagianos of the early release plans.
"Shoot Me Nicely" was a featured screening at The North Fork Television Festival and went on to win 30 International Festival awards including Best Actress (Linda Hamilton), Best Actor (William Sadler), Best Director, and Best TV Pilot. The pilot was produced by Craig Blair, Elias Plagianos, and Debra Markowitz. Written and Directed by Elias Plagianos and Stars John Behlmann, Linda Hamilton, William Sadler, Jackie Martling, Josh Burrow, Tasie Lawrence, Lukas Hassel, Fiona Hardingham, Joe Holt, Caitlin Mehner, Lindsay Torrey, and Diana Durango. Cinematography by Christopher Hamilton. Original Music by Jay Lifton. A trailer and clips for the pilot can be seen at http://www.shootmenicely.com
The North Fork TV Festival celebrates the evolution of television and independent television while convening the innovative minds of executives, directors, writers, and actors alike. Held annually in Greenport, New York, the festival supports independent program development and embraces exciting, innovative voices from around the world. It was founded by Noah Doyle and Lauren Doyle and co-founded by Jonathan Shafter. For more info visit http://www.northfork.tv