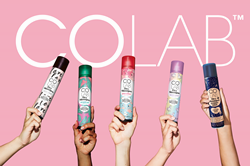 COLAB Dry Shampoo, the multi award-winning dry shampoo brand that's uniquely proven suitable for all hair types, colors and textures, is increasing its retail availability in the United States by an astounding 150%
NEW YORK (PRWEB) February 01, 2021
COLAB Dry Shampoo, the multi award-winning dry shampoo brand that's uniquely proven suitable for all hair types, colors and textures, is increasing its retail availability in the United States by an astounding 150% by expanding into leading drug stores including CVS, Walgreens, and Kroger stores from January 2021. It will be sold at 19,000 stores nationwide.
Already sold in 35 countries, the top-selling boutique British brand, created and founded by industry insiders and experts, debuted in the United States in January 2020 with 6 SKUs at Target, Walmart, and Rite Aid. Despite the retail challenges of 2020 due to COVID, COLAB has captured the attention of beauty consumers with its six fragrance choices and demonstrated invisible, effective formula that instantly absorbs oil and refreshes hair no matter hair type or texture. Proven performance in market has helped them grow from 0 to 19,000 doors in 12 months and speak to over 100 million American consumers with their marketing efforts.
"Building COLAB's American presence has been a priority for us, and further validates its global popularity," says Miles Dunkley, Founder & CEO of SLG Brands. "Our launch at CVS, Walgreens, and Kroger continues our mission to provide high performance, innovative products to consumers at an affordable price and we are so proud to be able to service American consumers."
COLAB will be debuting its new, innovative, and category unique Overnight Renew Dry Shampoo in early 2021. With this launch, COLAB introduces a special nighttime formula with scalp conditioning benefits for refreshed hair in the morning – perfect for time strapped consumers. The formula is vegan, dermatologically tested and approved, and scented with calming notes of soft lavender and amber to aid sleep and relaxation.
COLAB is also launching super-sized versions of the popular Original formula, which will be 100% bigger than the current cans, exclusively in 750 Walmart doors, offering consumers exceptional value in this particularly challenging time.
http://www.colab-hair.com
http://www.instagram.com/colabhair/
http://www.colab-hair.com/en-us
For more information, please contact Emma@red-pr.com