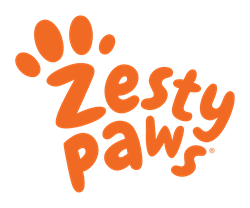 Zesty Paws functional pet supplements are now available at select PetSmart locations nationwide and on PetSmart.com
ORLANDO, Fla. (PRWEB) September 29, 2020
Zesty Paws, a leading functional pet supplements brand, and PetSmart, the largest specialty pet retailer, announced today that Zesty Paws functional pet supplements are now available at select PetSmart locations nationwide and on PetSmart.com.
The news comes as Zesty Paws continues to expand its distribution and availability for pet parents interested in functional pet supplements. This partnership with PetSmart is a key initiative for Zesty Paws to expand into the specialty pet retail space.
"PetSmart is a true icon in the pet retail space and a household name that every pet parent can trust," said Steve Ball, CEO of Zesty Paws. "This partnership offers pet parents more flexibility to find a complete line of Zesty Paws products where they shop. We are very excited about our partnership with PetSmart and delighted to be working with their team."
Zesty Paws is the leading brand for top rated pet functional supplements, with products crafted to support key functional areas for cats and dogs in different stages of their lives, regarding Gut Health, Immunity, Skin and Coat, Behavior and more. With delicious flavors and functional premium ingredients, Zesty Paws soft bites are the perfect way to Keep Your Bestie Feeling Zestie™.
Learn more about Zesty Paws® at ZestyPaws.com or by following the brand on Instagram.
About Zesty Paws
Since 2014, Zesty Paws is lead by a team of pet parents who have been committed to providing premium products to enable and inspire a ZEST FOR LIFE in pets and pet parents. As a top rated pet functional supplement brand, Zesty Paws® is the most trusted brand for innovative solutions that guide and empower the journey to wellness. Specializing in dog and cat care, Zesty Paws® products Keep Your Bestie Feeling Zesty™. For more information visit https://zestypaws.com/.
About PetSmart
PetSmart, Inc. is the largest specialty pet retailer of services and solutions for the lifetime needs of pets. At PetSmart, we love pets, and we believe pets make us better people. Every day with every connection, PetSmart's passionate associates help bring pet parents closer to their pets so they, together, can live more fulfilled lives. This vision impacts everything we do for our customers, the way we support our associates and how we give back to our communities. PetSmart operates approximately 1,650 pet stores in the United States, Canada and Puerto Rico, as well as more than 200 in-store PetSmart PetsHotel® dog and cat boarding facilities. The retailer provides a broad range of competitively priced pet food and products, as well as services such as dog training, pet grooming, pet boarding, PetSmart Doggie Day Camp™ and pet adoption. PetSmart, PetSmart Charities® and PetSmart Charities® of Canada work with more than 3,500 animal welfare organizations to bring adoptable pets into stores so they have the best chance possible of finding a forever home. Through this in-store adoption program and other signature events, PetSmart has facilitated more than 9 million adoptions, more than any other brick-and-mortar organization. In May 2017, PetSmart acquired Chewy.com, a leading online retailer of pet food and products in the U.S., which operates as an independent subsidiary.