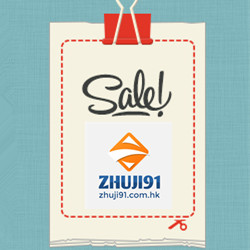 Now, you can get a reliable and fast web hosting package from ZhuJi91 by only paying $4.95/mo.
Hong Kong, Hong Kong (PRWEB) June 30, 2015
ZhuJi91, offering both Linux and Windows web hosting services starting at $8.95/mo regularly, has been awarded as the best Hong Kong web hosting provider because of its quality service and responsive support. Now, to ease customers' burden, this web host lowers its service price down to $4.95/mo.
Starting at such a low price, ZhuJi91 web hosting services are integrated with rich features, such as unlimited bandwidth, database size, domains and virtual directories. Besides, at least 1 GB disk space is included in all ZhuJi91 hosting packages. In terms of operation systems, its Linux web hosting is featured with CloudLinux and its Windows web hosting is featured with Windows Server 2008 R2 + IIS 7.5.
What's more, ZhuJi91 integrates an enhanced cPanel and WebSitePanel respectively in its Linux and Windows web hosting service, so no matter which plan you choose from this company, you are able to manage your sites, files, data, emails and FTP accounts easily. Moreover, an easy-to-use 1-click installer is integrated with the packages to help you install the most popular software with just a few clicks.
ZhuJi91 puts its customers' interest first and guarantees 99.99% uptime and fast speed for all the customers. To fulfill this commitment, this provider equips its state-of-the-art Hong Kong data center with hundreds of quality Dell servers, redundant power supply, UPS and BGP technology. Besides, dozens of technicians are monitoring the data center and servers 24x7, ensuring resolve any issue immediately to help customers run websites smoothly, stably and securely.
In addition to rich features, useful tools and high performance, ZhuJi91 also offers a high level of customer service. The support experts are standing by 24x7 to provide help via email and live chat. They are all professional and well-trained, so no matter when you are in trouble, you can contact them via each way you prefer and get instant solution to your issues.
To learn more about ZhuJi91 web hosting service, visit https://zhuji91.com.hk/.
About ZhuJi91
ZhuJi91 is a Hong Kong web hosting company whose mission is to provide the best hosting service for people who focus their businesses on China or other Asian countries. There is no need to have an ICP license with this web host, and your site will not be blocked by Chinese government.