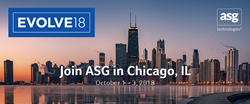 Zia has incredible knowledge and credentials in helping customers optimize their content management strategy to achieve better business outcomes.
BOULDER, Colo. (PRWEB) September 26, 2018
Zia Consulting, Inc., the leading provider of content management and intelligent document capture business solutions, will be a platinum sponsor of EVOLVE18 hosted by ASG Technologies. ASG provides global organizations with a modern approach to digital transformation to succeed in the information economy and is the only solutions provider for both information management and IT systems. The event will feature networking and education around how leading companies are transforming their businesses with effective information management, mobile business process management, and high-performing systems infrastructure.
As the cloud-based content services market continues to evolve, enterprise customers are looking to modernize their legacy environments. They need next-generation solutions that offer the flexibility to store content in the cloud, on-premises or both (hybrid cloud) and they may desire to leverage a managed services model.
Zia Consulting delivers content management solutions that address the chaos many enterprises are experiencing. Their start-to-finish guidance and customization is based on specific needs discovered by working closely with internal teams to enable them to be self-sufficient.
Zia provides professional services for ASG's Mobius technology, a platform that helps enterprises with the challenges of storing and managing unstructured data. It provides unified and simplified management of content regardless of content type, size or platform, as well as customized document processing and output management. Companies can access, index, link and store petabytes of information in any format from virtually any data source across multiple systems (mainframe, distributed and cloud).
During the event, Zia can be found on the expo floor at booth 107. Mike Mahon, CEO and co-founder will speak on, "Digital Transformation: The Journey to Content Services." Ryan McVeigh, managing partner at Zia Consulting will also have a presentation entitled, "How to Consolidate in Order to Increase Operational Efficiency by Moving Your Mobius Deployment to the Cloud."
"Zia has incredible knowledge and credentials in helping customers optimize their content management strategy to achieve better business outcomes," said Wayne Monk, senior vice president, global alliances and channel sales, ASG Technologies. "Zia has the unique ability to work with enterprise companies to gain greater value from ASG's Mobius content services platform by implementing or integrating best-in-class capture, workflow, analytics, or other solutions that best meet requirements and enable the quickest path to value. We're thrilled to have Mike and Ryan on the ASG team and sharing their experience with us at EVOLVE18."
As a platinum sponsor, Zia is able to offer a limited number of complimentary passes to customers and prospects. Contact summit(at)ziaconsulting(dot)com to learn more.
To learn more about EVOLVE18 and to register for the event visit http://bit.ly/asg-evolve.
About Zia Consulting
Zia Consulting is an award-winning system integrator of content management, process management, document capture, and cloud sharing technologies. We address the needs of enterprises to better manage, process, and secure documents by automating business processes and enhancing information governance. Our vertical accelerators for insurance, mortgage, accounting, manufacturing, and more are utilized by some of the world's largest enterprises to reduce costs, increase efficiency, and mitigate risk.
About ASG Technologies
ASG Technologies Group, Inc. provides global organizations with a modern approach to Digital Transformation to succeed in the Information Economy. ASG is the only solutions provider for both Information Management and IT Systems. ASG's Information Management solutions enable companies to find, understand, govern and deliver information of any kind, from any source—whether structured or unstructured—through its lifecycle from capture to analysis to consumption. The IT Systems Management solutions empower companies to support traditional and modern digital initiatives, operate their IT infrastructure more efficiently and effectively and reduce the cost of managing and running their internal IT systems landscape. ASG is proud to serve more than 3,000 customers worldwide in 60 countries and in top vertical markets including Healthcare, Financial Services, Insurance and Government. For more information, visit ASG.com or connect with us on LinkedIn, Twitter and Facebook.