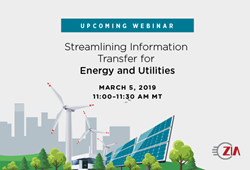 it is imperative for organizations to identify and mitigate any potential disruptions to the information flow.
BOULDER, Colo. (PRWEB) February 18, 2019
Zia Consulting, Inc., the leading provider of enterprise content management (ECM) and intelligent document capture business solutions, will host a webinar on March 5, 2019 focusing on the content management needs of the energy and utilities industry. Streamlining Information Transfer for Energy and Utilities is an hour-long event sharing the latest in automation and the management of streaming and static data.
The speed at which content and information flows between organizations that manage energy and utilities infrastructure is growing exponentially. With the amount of collaboration that must occur between owner operators, engineering procurement and construction companies (EPCs), and the gambit of state and federal regulatory bodies, it is imperative for organizations to identify and mitigate any potential disruptions to the information flow.
Steve Studer, of Zia Consulting has worked with a wide spectrum of these organizations and provided insights and best practices around effective content management and change control. During the event, Studer will talk about his experiences in providing frictionless information transfers between organizations, systems, and the people and processes supporting them. Some of the concepts Steve will touch on during this session include digital handovers, effective content creation and dissemination, and information audit and analytics tools that can automate and improve business decisions.
Key points of the webinar include:

Managing streaming data as well as static documents
Documents of record versus version noise
Content dissemination and consumption
Content federation
Audit and analytics
Content retention and governance
Those who register before the event will receive Steve's latest white paper, "Using Digital Handovers to Transform Information Exchanges." Register for this complimentary webinar at http://bit.ly/energy-webinar-zia.
###
Zia Consulting is an award-winning system integrator of content management, process management, document capture, and cloud sharing technologies. We address the needs of enterprises to better manage, process, and secure documents by automating business processes and enhancing information governance. Our vertical accelerators for insurance, mortgage, accounting, manufacturing, and more are utilized by some of the world's largest enterprises to reduce costs, increase efficiency, and mitigate risk.