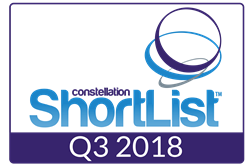 Zift goes much further than traditional pure-play PRM offerings to drive real channel success.
JERSEY CITY, N.J. and RESEARCH TRIANGLE PARK, N.C. and OXFORD, England (PRWEB) August 22, 2018
Enterprise Channel Management leader Zift Solutions was named to the Constellation ShortList™ for Partner and Alliance Relationship Management. The technology vendors included in the Q3 2018 Constellation ShortList deliver the key requirements for early adopters pursuing digital transformation initiatives to better manage partnerships, alliances and indirect channels throughout the sales process.
"As the long-standing leader in this space, we are pleased to appear once again on the Constellation ShortList for Partner and Alliance Relationship Management," said Gordon Rapkin, CEO of Zift Solutions. "Zift goes much further than traditional pure-play PRM offerings to drive real channel success."
Successful deployment of Partner and Alliance Relationship Management software enables vendors to leverage indirect sales channels and augment direct sales efforts. Zift's integrated platform spans the entire lifecycle of successful channel and alliance relationships, enabling easy and efficient collaboration across the entire partner ecosystem, speeding time-to-revenue and empowering higher close rates and margins for both sides of the channel.
"Boardrooms and their executive suites must be cognizant of the business extinction events and the exponential technologies that will transform their industries," said R "Ray" Wang, chairman and founder at Constellation Research. "Each Constellation ShortList, researched and curated by our analysts, guides early adopters in identifying the right technologies to support new business models and improve engagement. Leaders now have a list of the top technology partners who can co-innovate and co-create with customers to thrive and dominate digital disruption."
Constellation advises leaders on leveraging disruptive technologies to achieve business model transformation. Products and services named to the Constellation ShortList meet the threshold criteria for this category as determined through client inquiries, partner conversations, customer references, vendor selection projects, market share and internal research. The Constellation ShortList is frequently updated as market conditions change.
Constellation considers the following threshold criteria for PRM solutions: Profile management; onboarding management; sales management; content management; communications management; survey tools; training and certification management; support and ticketing systems; community management; performance, rewards and gamification; partner locator; and orchestration of alliance and ecosystem network programs.
See how Zift PRM delivers this critical functionality along with business planning, MDF management, advanced analytics, closed-loop reporting -- and the ability to market to, through and for partners here: https://ziftsolutions.com/products/prm/.
About Zift Solutions
Zift is the Enterprise Channel Management leader, synchronizing the people, processes and technology organizations require to drive channel success. Relied on by more than 80% of top channel chiefs and more than half a million partners, Zift Channel as a Service enhances channel partner program productivity and profitability by automating marketing, sales and operational processes. Our comprehensive range of applications integrates seamlessly with established systems and infrastructure to speed time-to-sales, engage partners, provide faster ROI and deliver better results. To learn more, visit http://www.ziftsolutions.com, join the conversation via the blog Channel Chatter and follow us on Twitter @zift.