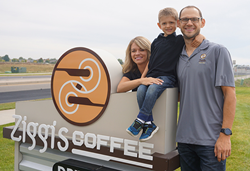 Our family loves doing business with the Ziggi's family. They provide a tremendous amount of support. It's been a really great experience.
LONGMONT, Colo. (PRWEB) January 03, 2020
Ziggi's Coffee (http://www.ZiggisCoffee.com), the rapidly-growing Colorado-based franchise known for its fast and friendly drive-thru coffee service, is excited to announce that its first franchisees, Steve and Jill Anderson, have teamed up with family members Michelle and Matthew Wiley to bring Ziggi's Coffee to Castle Pines, Colorado.
Residents of the Castle Pines area, Michelle and Matthew Wiley will be overseeing the new store, located at the site of a former coffee shop in a bustling shopping center at 7298 Lagae Rd. off Castle Pines Parkway.
"I have been looking for an opportunity like this for a while, so when the location opened up, I knew it was right for us," said Michelle. "I'm very excited to bring the Ziggi's brand of quality products to Castle Pines and to provide a gathering place for the community."
This is the fifth franchise agreement for the Andersons, who currently operate locations in Loveland and Johnstown, Colorado. Another location is planned for Parker, Colorado. that will be operated by Steve's mother. For them, Steve says, it's a true family affair.
"Our family loves doing business with the Ziggi's family," said Steve. "As the company's first franchisees, we have become really good friends with the founders, Brandon and Camrin Knudsen, as well as the entire Ziggi's team. They provide a tremendous amount of support. It's been a really great experience."
So great, that the family plans to continue opening additional units into the future. Thanks to the company's streamlined and duplicatable process, they have found their rhythm working together as a family.
Steve says, "It's been fantastic. We're only two years into it and there's still so much untapped potential."
The new location will be transformed into a Ziggi's Coffee café and drive-thru over the next several months and will culminate with a special Grand Opening celebration for the community.
Individuals who are interested in franchising with Ziggi's Coffee can find more information at http://www.ZiggisCoffee.com/franchise and are encouraged to get in touch with the Franchise Team by filling out an online inquiry form.
About Ziggi's Coffee
Ziggi's Coffee, the leading specialty coffee shop and drive-thru franchise, was recently named a 2019 Colorado Business to Watch by Colorado Biz Magazine, for representing the state's thriving business ecosystem and promoting valuable growth opportunities. Ziggi's Coffee is dedicated to serving only the finest sustainably-sourced coffee, uniquely handcrafted drinks, and amazing, locally-made breakfast, lunch and snack options. Founded in 2004, the Colorado-based company is on a mission to elevate the standard of service within the coffee shop industry. From specializing in a variety of great-tasting coffee and food items to providing fast and friendly service, the Ziggi's Coffee brand is focused on creating a positive experience that is faster, more authentic and convenient for the demand of consumers seeking higher-quality coffee and food options on the go. In addition to its distinctive menu and superior service, Ziggi's Coffee is also committed to making a positive difference in the local communities it serves. With 21 existing locations nationwide, and 25 additional units in development, Ziggi's Coffee is positioned to quickly grow its presence in a variety of communities across the U.S.
To learn more about Ziggi's Coffee and its franchising opportunities, visit http://www.ZiggisCoffee.com/franchise or follow Facebook, Twitter and Instagram.
###