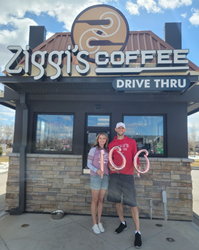 With each new store we've opened, it just keeps getting better," said Jill. "They are all doing exceptionally well. We are excited about opening another location, so we can continue to utilize our amazing employees and continue to grow.
LONGMONT, Colo. (PRWEB) April 01, 2021
Ziggi's Coffee (http://www.ZiggisCoffee.com) has just inked its 100th deal with the company's first franchisees. Steve and Jill Anderson signed the first Ziggi's Coffee franchise agreement just four-and-a-half years ago. Now, with four stores up and running, the Andersons have signed the company's milestone agreement as they plan to continue their Colorado expansion.
The Andersons opened the company's first franchise location in 2017, a double-sided drive-thru in Loveland, Colorado. Today, they have two locations in Loveland, one in Johnstown, Colo., and one in Castle Pines, Colo., with two more units in development.
"It's an extraordinary accomplishment to reach our 100th franchise agreement after just five years of launching our one-of-a-kind franchise program," said Justin Livingston, Vice President of Franchise Development. "We couldn't have planned it better for this agreement to be with Steve and Jill, who have been a part of our franchise family since the very beginning. They have been amazing partners and have seen first-hand how the company has grown."
Founded on the corner of Main Street in Longmont, Colorado by Brandon and Camrin Knudsen in 2004, Ziggi's Coffee perfected its system of easy-to-follow processes to simplify operating procedures and allow the concept to be easily replicated as a franchise.
"When we signed our first agreement, we worked directly with Brandon to get that first store open and now there is an entire team of people there to help," said Steve. "They have streamlined everything so that you just have to follow the checklist and your store opens up. It's almost that easy."
As the company has evolved, so has its franchise program. From a more robust support staff to leveraging technology to enhance its systems and processes through the use of proprietary checklist apps and other helpful tools, Ziggi's Coffee has expanded its resources, while expanding its footprint.
"With each new store we've opened, it just keeps getting better," said Jill. "They are all doing exceptionally well. We are excited about opening another location, so we can continue to utilize our amazing employees and continue to grow."
"It's easy to see what Ziggi's is doing right. They wouldn't have signed this many agreements if it wasn't a successful model," added Steve. "As the first agreement and now the hundredth agreement, I'd say it's definitely 100 percent worth it and obviously we'd do it again, and again, and again!"
Ziggi's Coffee signed three agreements in its first year of franchising and has forecasted it will do 50 this year. The company has 23 franchise locations and seven corporate locations, across the country, with over 70 units in development.
"When we started the Ziggi's Coffee brand, we never really dreamed it would change so many lives," said Brandon Knudsen, Co-Founder and President of Ziggi's Coffee. "With a focus on being the best part of our customers' day, we created a brand that has turned into a nationwide family. We are humbled by the growth and the commitment of our franchisees to help spread the company's core values of putting people first, providing exceptional products and making each customer's day a little brighter. We look forward to expanding our family even more."
About Ziggi's Coffee
Ziggi's Coffee, recently ranked among the top half of companies on the 2021 Entrepreneur Magazine Franchise 500®, is a leading specialty coffee shop and drive-thru franchise dedicated to serving only the finest roasted coffee, uniquely handcrafted drinks, and amazing locally-made breakfast, lunch and snack options. Founded in 2004, the Colorado-based company is on a mission to elevate the standard of service within the coffee shop industry. From specializing in a variety of great-tasting menu items to providing fast and friendly service, the Ziggi's Coffee brand is focused on creating a positive experience that is faster, more authentic and convenient for the demand of consumers seeking higher-quality coffee and food options on the go. In addition to its distinctive menu and superior service, Ziggi's Coffee is also committed to making a positive difference in the local communities it serves. With 30 locations nationwide and over 70 additional units in development, Ziggi's Coffee is positioned to quickly grow its presence in a variety of communities across the U.S.
To learn more about Ziggi's Coffee and its franchising opportunities, visit http://www.ZiggisCoffee.com/franchise or follow Facebook, Twitter and Instagram.
###