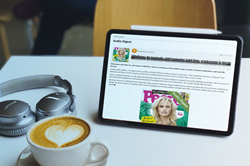 "Working with ZINIO to create Sports Illustrated Audio Digests has been an important and meaningful step in expanding both the accessibility and convenience of our digital products."
BLOOMINGTON, Minn. (PRWEB) June 07, 2022
ZINIO today announced they have released ZINIO Audio Digest, a new turn-key solution enabling publishers to create a human-narrated audio version of a magazine issue using premium voice-over talent. The solution offers readers a whole new way to experience magazine content, giving them the chance to listen to a selection of featured articles from an issue in a podcast-style format.
Each Audio Digest is 30-60 minutes in length and typically includes 3-10 articles, along with an intro. The resulting audio can be produced and delivered as a single compiled edition or as individual audio files for each article. This flexibility allows the Audio Digest to be incorporated across multiple channels, including the publisher's website, audio service providers, or magazine apps that ZINIO can manage on a publisher's behalf.
"Today's consumers demand the right content at the right time, and in the right format. That means publishers must find new avenues to connect with their readers," said Natascha Helbig-Carmeci, Sr. Director, Partnerships at ZINIO. "We are now able to enable magazines to do just this with Audio Digest, providing new experiences to subscribers who would rather listen to the content, for example, during their commute to and from work or while they multi-task at home."
ZINIO has launched Audio Digest across several of its distribution partners, featuring leading brands such as People, Entertainment Weekly, Clean Eating, Newsweek International, Entrepreneur, and Sports Illustrated.
"Providing our readers with audio versions of articles has long been an area of interest for us," said Scott Brody, Executive Producer at Sports Illustrated. "Working with ZINIO to create Sports Illustrated Audio Digests has been an important and meaningful step in expanding both the accessibility and convenience of our digital products."
Supporting Resources
About ZINIO
ZINIO, a Naviga (Vista Equity) company, brings innovation and inspiration to the world of magazine publishers and consumers by delivering the ultimate digital reading experience on any device. As pioneers of the digital publishing industry for over a decade, ZINIO leads the digital magazine market in breadth of content and accessibility on any platform. For magazine publishers, ZINIO Pro converts print magazines to digital content through a SaaS platform that converts PDF to XML, offering publishers complete flexibility in managing and delivering their content in branded, native magazine applications for tablet, smartphone, and desktop, in searchable article databases, or on the growing network of ZINIO Pro distribution partners. For magazine consumers, ZINIO operates online newsstands and award-winning iOS, Android, Windows, and Kindle apps in more than 30 languages, providing the broadest selection of digital magazine content accessible on any platform that can be read online or offline, synced across multiple devices and searched for archival content.