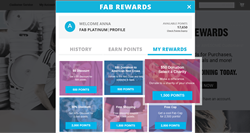 "Zinrelo is proud to announce this 100% charitable matching program. We hope to light up a million smiles across the globe."- Samir Palnitkar, VP of Customer Success, Zinrelo
PALO ALTO, Calif. (PRWEB) November 29, 2022
"It's not how much we give but how much love we put into giving."- Mother Teresa
In its continued efforts to empower communities and to spread the holiday season cheer, Zinrelo announced today that from now till the end of 2022, it has launched a 100% charitable matching program for the 1 Billion+ loyalty members on the Zinrelo platform.
Zinrelo is a SaaS-based loyalty platform being used by over 2,000 global brands, to launch their custom, personalized loyalty rewards programs. As a part of this offering, Zinrelo allows members to donate their loyalty points to a charitable cause instead of redeeming these points for their own benefit. Members can choose from dozens of charities including American Red Cross, Save the Children, American Civil Liberties Union, and many more. Zinrelo will match all such charitable donations dollar-for-dollar through Dec 31, 2022.
"We strongly believe that giving back to the community is an investment in our shared future and a way to make the holiday season special." said Samir Palnitkar, VP of Customer Success at Zinrelo. "Zinrelo is proud to announce this 100% charitable matching program. We hope to light up a million smiles across the globe."
People around the globe are still recovering from the pandemic's impact. This announcement from Zinrelo encourages loyalty program members to participate & contribute to social causes during this holiday season.
During the season of giving, a small commitment can ignite change in the world and this announcement is a step towards the holistic betterment of the world we live in.
About Zinrelo:
Zinrelo is an enterprise-grade, SaaS-based loyalty platform that helps brands launch holistic rewards programs. Zinrelo combines technology with deep data analytics and ongoing strategy consultation to unlock multiple dimensions of loyalty, including transactional, social, advocacy, engagement, behavioral, and emotional. Our evolving global partner network, technology innovations, and data-driven intelligence ensure that your loyalty program is strategic, unique, and results-driven.