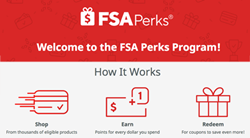 "Zinrelo's comprehensive loyalty platform does everything from tracking Loyalty to promoting customer engagement. We love it!"- Larry Gray, Digital CRM Director at FSA Store.
SUNNYVALE, Calif. (PRWEB) December 12, 2018
FSAstore.com, the most comprehensive e-commerce marketplace that sells exclusively Flexible Spending Account (FSA)-eligible products, has gained 1 million subscribers as a result of using Zinrelo's loyalty rewards platform as the main engine to drive its FSA Perks Loyalty Program.
With the objective of maximizing revenue by improving customer retention, FSAstore.com implemented Zinrelo's modern-day loyalty rewards program and achieved a whopping 1 million subscribers for its FSA Perks Loyalty Program.
According to FSAstore.com, the company has found success with FSA Perks, which is a tiered loyalty program.
The company offers a website feature called an FSA Tracker, which allows customers to input their FSA deadlines and receive email reminders to notify them when their spending deadlines were approaching. Unfortunately, customers were not utilizing this feature. To encourage customers to provide these details, FSAstore.com used loyalty points as an incentive. Bonus points were awarded to customers who entered their spending deadlines. This resulted in a noticeable uptick in FSA Tracker use.
With FSA Perks, the company was also able to identify customers who had not shopped in six months. Before a customer is lost, a win-back promotion is delivered that offers bonus points for shopping within a week. This proved effective at engaging customers whose churn rate was high.
Zinrelo offers a higher incentive to top FSAstore.com customers who stay active with their yearly tax-free healthcare spending. Multiple reward tiers based on various customer segments have helped drive higher participation in the loyalty program.
"The Zinrelo loyalty program platform and marketing automation tool allows us to customize the FSA Perks program and maintain awareness and engagement with customers.", said Larry Gray, Digital CRM Director at FSAstore.com. "In the same way that FSAstore.com strives to give account holders peace of mind about their healthcare dollars, Zinrelo gives us peace of mind that we are retaining those valuable relationships with customers."
To improve customer retention targeted FSA has executed several successful promotional campaigns using loyalty points. A recent campaign executed in November 2018, resulted in 1,081 incremental orders and $77,000 incremental revenue in just two weeks.
"The Zinrelo loyalty rewards program, is helping businesses to reach out and make deeper long-lasting connections with their customers. Loyalty ensures that customers do not go to competition, and this leads to repeat business.," stated Samir Palnitkar, VP of Customer Success at Zinrelo. "We are empowering enterprises to create personalized loyalty rewards programs with ease."
About FSAstore.com/HSAstore.com
FSAstore.com is flex spending with zero guesswork. It's both the largest online marketplace for guaranteed FSA-eligible products and an educational resource that you can understand. It's the company's mission to help millions of flexible spending account holders manage and use their FSAs and save on more than 4,000 health items using tax-free health money.
In an ever-shifting market, HSAstore.com is health savings, simplified. With the largest selection of guaranteed HSA-eligible products and easy-to-understand educational resources, the brand is here to maximize consumers' long-term health savings and help ease the financial burden of medical needs should they arise.
About Zinrelo:
Zinrelo is a modern-day, loyalty rewards program, helping to maximize repeat sales and per-customer revenue through 360-degree customer engagement. Zinrelo encourages multiple dimensions of loyalty including transactional, social, referral, engagement and behavioral loyalty. It supports omni-channel deployments that span across desktop, mobile and physical stores.
To zing your loyalty and referral programs, contact Zinrelo at https://www.zinrelo.com/ or info(at)zinrelo(dot)com