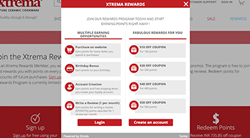 "We are thrilled to have partnered alongside Zinrelo to launch our first ever customer rewards and loyalty program. It was easy to implement, and our customers love it. Thanks for a fantastic product!"- Patrick Bergstrom, Marketing Director at Xtrema cookware
SUNNYVALE, Calif. (PRWEB) January 30, 2019
Xtrema cookware offers an excellent selection of skillets, braisers, saucepans, stock pots, Dutch ovens, cookware sets, bakeware bowls and other products to make cooking at home more enjoyable. With the objective to improve customer retention, Xtrema cookware implemented Zinrelo's modern-day loyalty rewards program.
While evaluating the loyalty program platform they were looking for a solution that could easily integrate with their Shopify cart. Zinrelo offered them a program that was simple to install and easy to customize as per their brand requirements.
Having a world class range of products was not enough to make Xtrema cookware customers return to buy more. Xtrema cookware was concerned with the customers drop out from the first to second purchase. Only 16% of the purchasing customers were returning for the 2nd purchase. The loyalty rewards program helped them improve customer retention.
Their tier-based loyalty program titled 'Xtrema Rewards' offers users an opportunity to earn points for different activities namely purchase on website, review on website, social sharing etc.
A whopping 19% uplift in customer retention was recorded after the launch of the loyalty program. A big contributing factor to this uplift in retention were the 12.8% dormant users who were reactivated by awarding them incentives through the rewards program. In just 3 months, $21,492 revenue was generated from purchases made by enrolled users who were redeeming their rewards. "Having a loyalty rewards program gives our customers increased incentive to come back and make a second purchase, dramatically increasing the likelihood that they will become a long-term repeat customer." commented Patrick Bergstrom, Marketing Director at Xtrema cookware. "Launched right along with our new Shopify website at http://www.xtrema.com, we have seen amazing results. Conversion and repeat purchases increased in just 6 months. We can't wait to see what this program will do for us over the next few years!"
"The Zinrelo loyalty rewards program is helping businesses to reach out and make deeper long-lasting connections with their customers. Loyalty ensures that customers do not go to competition, and this leads to repeat business.," stated Samir Palnitkar, VP of Customer Success at Zinrelo. "We are empowering enterprises to create personalized loyalty rewards programs with ease."
About Xtrema cookware:
Xtrema cookware is carefully designed and engineered to be safe to use at low and medium high temperatures, and safely free of toxic elements. All Xtrema cookware is constructed from 100% pure ceramic which has inert and non-reactive qualities.
For more information visit: https://www.xtrema.com/
About Zinrelo:
Zinrelo is a modern-day, loyalty rewards program, helping to maximize repeat sales and per-customer revenue through 360-degree customer engagement. Zinrelo encourages multiple dimensions of loyalty including transactional, social, referral, engagement and behavioral loyalty. It supports omni-channel deployments that span across desktop, mobile and physical stores.
To zing your loyalty and referral programs, contact Zinrelo at https://www.zinrelo.com/ or info (at) zinrelo (dot) com.