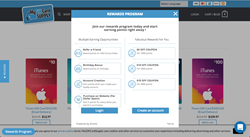 "Having a loyalty rewards program gives our customers increased incentive to come back and make a second gift card purchase, dramatically increasing the likelihood they will become a long-term repeat customer."- Sam Gastro, CEO at MyGiftCardSupply
SUNNYVALE, Calif. (PRWEB) September 19, 2018
MyGiftCardSupply offers customers quickest and the most secure way to receive gift cards online. They offer instant access for hundreds of gift cards, iTunes, play station, Xbox and more! With the objective to engage with their customers and foster loyalty to their brand, MyGiftCardSupply implemented Zinrelo's modern-day loyalty rewards program.
Their tier-based loyalty program 'Rewards Program' helps users to earn points for different activities namely refer a friend, account creation, write a review etc.
MyGiftCardSupply upped their customer engagement game by sending regular email notifications to its loyal customers when they earn points, achieve rewards, successfully refer others etc. The loyalty program email notifications have seen an impressive open rate of 46% and a click rate of 24%. This has been instrumental in bringing customers back to the site for repeat purchases.
"35% of the customers enrolled in the program were more likely to make a repeat purchase, as the value of their unredeemed rewards has increased.," commented Sam Gastro, CEO at MyGiftCardSupply, "Having a loyalty rewards program gives our customers increased incentive to come back and make a second gift card purchase, dramatically increasing the likelihood they will become a long-term repeat customer."
To re-engage customers who had stopped buying gift cards from their site, the 'Rewards Program' was able to achieve a 3.75% reactivation rate.
"The Zinrelo loyalty rewards program, is helping businesses to reach out and make deeper long-lasting connection with their customers. Loyalty leads to engagement, which leads to repeat business.," stated Samir Palnitkar, VP of Customer Success at Zinrelo. "We are empowering enterprises to create personalized loyalty rewards program with ease."
About MyGiftCardSupply:
MyGiftCardSupply launched in 2012, is committed to provide their customers the fastest, and most convenient way to access their digital entertainment, securely, from anywhere in the world.
For more information visit: https://www.mygiftcardsupply.com/
About Zinrelo:
Zinrelo is a modern-day, loyalty rewards program, helping to maximize repeat sales and per-customer revenue through 360-degree customer engagement. Zinrelo encourages multiple dimensions of loyalty including transactional, social, referral, engagement and behavioral loyalty. It supports omni-channel deployments that span across desktop, mobile and physical stores.
To zing your loyalty and referral programs, contact Zinrelo at http://www.zinrelo.com or info(at)zinrelo(dot)com