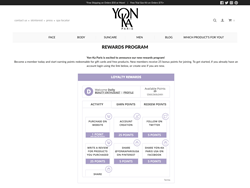 "We have seen a 57% increase in repeat customers and each of them are contributing 220% more revenue compared to one-time buyers. We will be expanding the Zinrelo platform to our B2B business, in the coming months."- Brittany Boykow, E-Commerce Manager & Digital Marketing Analyst at Yon-Ka Paris
SUNNYVALE, Calif. (PRWEB) August 14, 2018
Yon-Ka Paris established in 1954 is a French skin care brand, pioneer and leader in aromatherapy. Being in a highly competitive vertical, Yon-Ka realized that they needed a robust customer retention strategy.
To establish a stronger connection with their customers, Yon-Ka introduced the 'Yon-Ka Rewards Program' by embracing a modern day loyalty rewards program from Zinrelo with built-in 360-degree engagement modules.
Yon-Ka offers customers multiple earning opportunities with simple actions, to ensure customers are motivated to take actions like purchase on website, account creation, following on twitter etc. Rewards are offered based on the points customers earn from the above. An interesting mix of discounts as well as freebies are offered. Yon-Ka also wanted to try offering bonus points during their typically slow months i.e. February and March, to see if this could bolster their sales.
"Zinrelo has been working great for us. Once my developer placed the script on our website, I could control the entire program from their website with ease," commented Brittany Boykow, E-Commerce Manager & Digital Marketing Analyst at Yon-Ka Paris. "The program performed 100x better than I expected, with conversion rate and sales doubling over the average of what we make on a promotional day. It demonstrated our customers' interest in the point system and the ability to introduce a marketing program that was so easy to implement. In just one of the days that I was experimenting with the bonus points, we made back our investment in Zinrelo many times over."
Adding to the above, Brittany stated, "since implementing Zinrelo, overall site sales have increased and become more stable throughout the week, especially on non-promo days, compared to the months prior to implementing the program. It's giving customers a reason to come back to our website, to make a purchase vs. going elsewhere because they are accruing points irrespective of the purchase amount. "
Happy with the performance of the loyalty program on their B2C website and the exceptional support offered by Zinrelo, Brittany also highlighted "We have seen a 57% increase in repeat customers and each of them are contributing 220% more revenue compared to one-time buyers. We will be expanding the Zinrelo platform to our B2B business, in the coming months."
Zinrelo's Enterprise Grade Loyalty Rewards Program is redefining the loyalty space by enabling retailers to unlock customer loyalty across multiple dimensions, such as- transactional, behavioral, engagement, and advocacy loyalty.
"The Zinrelo loyalty rewards program is a no-nonsense, foolproof way for businesses to reach out and make a lasting two-way connection with their customers. Loyalty leads to engagement, which leads to repeat business. It's a simple concept," stated Samir Palnitkar, Founder at Zinrelo. "Companies are always surprised at the impressive results, delivered by a strategy that is so easy for them to implement. We are empowering enterprises to create personalized loyalty rewards program."
About Yon-Ka Paris:
Yon-Ka offers skin care for face, body and sun, for men and women, imagined and developed by a family driven by a passion for botanicals. Since 1968, they have been growing from small-scale operation to international company with the same passion. They can be found in more than 50 countries, present in more than 5000 of the most exclusive spas and resorts, collaborating with dermatologists and plastic surgeons.
For more information visit: https://shop.yonkausa.com/
About Zinrelo:
Zinrelo brings you the world's best loyalty rewards and referral programs, to help you maximize the revenue per customer and new customer acquisition through 360-degree customer engagement. It supports omni-channel interactions including desktop web, mobile web, mobile apps and in-store engagements. Zinrelo loyalty rewards program boosts per-customer revenue by 2.4 times and repeat purchases by 80%. Create fiercely loyal customers who are rewarded for different forms of engagements including purchases, social advocacy, reviews, sign-ups, referrals, photo sharing and more. It is fully customizable and is easy to deploy. Zinrelo referral program delivers a 25% uplift in new customer acquisition by converting your customers into brand ambassadors.
To zing your loyalty and referral programs, contact Zinrelo at https://www.zinrelo.com or info(at)zinrelo(dot)com