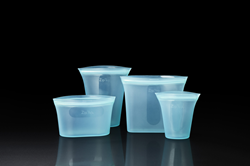 We're excited to reach this level of funding with nearly a month left in the campaign, which shows that families everywhere have a need for a product like Zip Top®
AUSTIN, Texas (PRWEB) October 08, 2018
Serial entrepreneur and designer Rebecca Finell has launched the next great innovation in food storage, Zip Top® containers on Kickstarter; raising more than $250,000 within the first five days.
Unlike anything on the market today, these containers could be the plastic-free change consumers have been waiting for.
"We're excited to reach this level of funding with nearly a month left in the campaign, which shows that families everywhere have a need for a product like Zip Top® – an eco-friendly option which offers more than current food storage solutions. We believe that we have the next great innovation in food storage," said serial entrepreneur and Zip Top® Founder/Designer Rebecca Finell.
Having worked with silicone for 14 years, Rebecca knew that it was the right material for the job. Platinum silicone is food safe and can go in the microwave, freezer, oven and dishwasher without consumers having to worry about leaching chemicals into their food. "I wanted to create a design with no cracks and crevices that would also stay wide open in the dishwasher," said Rebecca, founder and CEO.
Zip Top® successfully addresses many of the issues that today's consumers have with food storage solutions - ease of use, versatility, environmental friendliness and LOST LIDS! As the first zippable silicone container that stands upright, Zip Top® boasts a number of breakthrough features:

Versatility – The use of 100% platinum silicone allows Zip Top® containers to go in the microwave, freezer, oven (to 425 degrees) and dishwasher without concern about damage or leaching chemicals into your food.
Eco Friendly- Unlike plastic bags, Zip Top® containers can be used thousands of times.
Zippered Top – Zip Top® container's thick silicone zipper is easy to close. It is also easy to squeeze air out which will keep food fresh longer.
Thoughtful design – Each container design is wider at the top than the bottom making it easy to remove frozen foods. Or it can go straight from freezer to microwave. Zip Top® containers also nest, saving valuable cupboard space.
Rounded Interior – Every Zip Top® is designed with a rounded interior, so it gets completely clean, whether hand washed or put in the dishwasher. There are no corners in which food can hide and grow bacteria or mold.
Flat Base – Every Zip Top® is flat on the bottom which means it stands upright for filling, cleaning or eating. No more fighting floppy bags!
Wide Opening – Zip Top®'s wide opening allows for easy filling and serving as well as to eat directly out of them. Liquids, fruit, sandwiches, salads – anything can go in a Zip Top®.
No Lids!! – Best of all Zip Top® containers have no lids to store, lose, find, lose again or clean!
"Kickstarter is the ideal platform to launch Zip Top®. This is such a new concept in food storage that our first task is to educate consumers," said Finell. "Kickstarter provides a wonderful platform for that. We hope people are excited to be a part of our effort to reduce plastic waste and will support our efforts."
Visit Zip Top®'s Kickstarter page to pre-order the containers, meet the designer, and learn more about the product that is a game changer for food storage.
About ZipTop®
"Why has this not existed before now?" is the question we get the most! Finding a better solution to food storage is how we got here, and we will continue to innovate and solve everyday problems as we grow. Our passion is creating beautiful functional products that benefit you and the environment.
Our founder, Rebecca Finell, has a history of disrupting traditional categories with her innovative product design. Previously, as the founder and President of Boon, Rebecca created award-winning products in the baby product industry that help parents across the globe. Additionally, Rebecca is the founder and CEO of FINELL, a manufacturer of award-winning luxury home goods and handbags, which are sold in top retailers and museums around the world. Rebecca lives in Austin, Texas with her husband and 4 children.