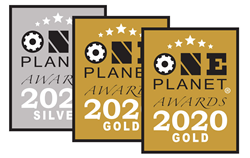 We are honored to be recognized by the One Planet Awards for our smart fleet management innovations and COVID-19 resources during an unprecedented time
SEATTLE (PRWEB) November 12, 2020
Zonar, the leader in smart fleet technology, has won three 5th Annual 2020 One Planet® Awards for its market-leading smart fleet management solutions and COVID-19 resources for the commercial trucking and pupil transportation industries. The awards honor the best in business and professional excellence in every industry globally.
Zonar won the following 2020 One Planet Awards:

Gold Award, Communications or PR Campaign of the Year; Heightening Awareness: Zonar's national campaign provided key guidance and resources to customers to help keep the supply chain and essential businesses running during COVID-19.
Gold Award, Company Innovation of the Year; Tackling COVID-19 with Innovative Ways: Zonar was recognized for its COVID-19 solutions for sanitization, student tracking and engine updates, which are helping to make the reopening process for schools easier, safer and more efficient. Additionally, Zonar's COVID-19 resources for fleets and truck drivers aim to keep them safe during this time, which in turn, keeps trucks moving to continue providing necessary supplies for businesses and consumers.
Silver Award, New Product or Service of the Year; Automotive, Transportation, Storage, and Logistics: Zonar's game-changing OTAir™ solution was recognized for its innovative approach to engine updates. Manual engine updates drain fleet managers of time and money, but Zonar OTAir presents a convenient way to update Cummins engines over-the-air using a mobile device and allows drivers to get on the road faster and be more efficient.
"We are honored to be recognized by the One Planet Awards for our smart fleet management innovations and COVID-19 resources during an unprecedented time," said Michael Gould, chief operating officer at Zonar. "These awards are a true reflection of our dedication to safety and customer support. We will continue to build upon these solutions and resources to ensure we are always helping our customers put safety first during COVID-19 and beyond."
Judges from a vast array of industries worldwide participated in the scoring process, and their average scores determined the winners of the 2020 One Planet Awards. The winners of these awards will be celebrated during a virtual ceremony on December 10.
For a complete list of the 2020 One Planet Award winners, visit https://oneplanetawards.com/2020-business-awards-winners/.
About the One Planet Awards
One Planet Awards recognizes companies for their business and professional excellence. The One Planet Awards honors are currently conferred in category sections which include outstanding individuals, executives, teams, new products and services, PR, Marketing, and Corporate Communications, and organizations from all over the world. Learn more about the One Planet Awards at http://www.oneplanetawards.com and participate.
About the SVUS Awards
SVUS Awards are conferred in eleven programs: the CEO World Awards®, the Consumer World Awards®, The Customer Sales & Service World Awards®, The Globee® Awards, the Golden Bridge Awards®, the Info Security Products Guide's Global Excellence Awards® and Security World Awards, the Network Products Guide's IT World Awards®, One Planet® American + World Business Awards, the Pillar World Awards®, the PR World Awards® for Public Relations and Communications, and the Women World Awards®. Honoring organizations of all types and sizes and the people behind them, the SVUS Awards recognize outstanding achievements and performances in businesses worldwide. Learn more about the SVUS Awards at https://svusawards.com.
About Zonar
Founded in 2001, Zonar has pioneered smart fleet management solutions throughout vocational, pupil, mass transit and commercial trucking industries. Zonar's mission is to enhance the safety, performance and success of our customers by transforming the delivery of innovative insights for commercial fleets around the world. Zonar achieves this by helping fleets of all sizes maximize the use of their assets with solutions dedicated to improving compliance, efficiency, maintenance, ridership visibility, safety and tracking. Cloud-based services with open APIs drive Zonar's smart fleet solutions by making it easy for fleet owners and managers to stay connected to their fleets and drivers and operators to dispatch. Headquartered in Seattle and part of the Continental family, Zonar also has a Technology Development Center in downtown Seattle, a regional office in Cincinnati, and a distribution center outside of Atlanta. For more information about Zonar, go to http://www.zonarsystems.com.