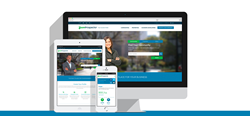 More than 97% of business site selectors are researching communities online, often without economic developers aware that their locations are being considered. The new ZoomProspector.com provides key data for the site selection process.
San Francisco, CA (PRWEB) May 18, 2016
GIS Planning Inc. today announced the public launch of the completely redesigned ZoomProspector.com, the most comprehensive business location analysis portal in the U.S. The new ZoomProspector.com enables businesses and site selectors to freely search and analyze robust GIS map data about U.S. locations so they can make informed decisions about the ideal place to locate.
The original ZoomProspector.com, launched in 2008, changed the process of business location selection by enabling detailed online searching. The new version adds an intuitive new interface, mobile optimization, community rankings by variable, a greatly enhanced data set and additional features, all available without charge to users seeking communities with commercial real estate properties.
"More than 97% of business site selectors are researching communities online, often without the economic development organizations aware that the places they represent are under consideration," said Anatalio Ubalde, CEO and co-founder of GIS Planning Inc. "The new ZoomProspector.com makes sure they find the data they need. The intuitive interface allows them to dive deep into our extensive data sets, map results, and then find website and contact information to move their decisions to the next step."
ZoomProspector.com's comprehensive GIS data sets drill down past the county level, so that business users can make informed location decisions. Searches can be done at the county, city and metro level. Even better, the site is designed so that anyone, not just GIS tech experts, can easily search and analyze information. Multi-variable searches can be done at the click of a mouse, with results ranked for ease of use and interpretation.
"It's so much easier to make sense of complex data when it's presented in an engaging visual format, so users will find dynamic data infographics, heat maps, and primary data provided by local governments," explained Pablo Monzon, GIS Planning's CTO and co-founder. "The new ZoomProspector.com lets economic developers tell the story of their community with beautiful, informative maps, charts, and images."
A true national site selection portal is only effective if it's offered at no cost to business users, since the goal is to encourage as much traffic as possible. Businesses, site selectors, and economic developers will appreciate the lack of barriers to access ZoomProspector.com's vast data resources and mapping capability; anyone can use the site to find their ideal commercial real estate location.
Fully loaded features tell the story of each location. The new ZoomProspector.com enables extensive availability of hyper-local heat maps spanning a huge range of key data variables, including demographics, business, industry, consumer spending and local GIS map data layers, all of which extend down to city level detail. The portal offers opportunities for economic developers to set up detailed Economic Development Organization (EDO) Portals, which function as SEO-boosting microsites to market their communities. ZoomProspector.com is the only national site selection portal with fully integrated sharing with social media, user comment and review fields for communities, and advertising opportunities.
For more information, please visit http://www.ZoomProspector.com.