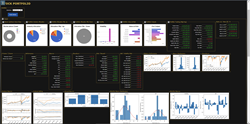 Invest and Trade using sophisticated analytics, tools, and data to level the playing field in Financial Markets
SALT LAKE CITY (PRWEB) March 11, 2021
We are pleased to announce the integration of the Plaid API into the Zoonova.com financial web application. The Zoonova platform is the most sophisticated analytical Fintech web application in the market with Cross Asset coverage of asset classes including Stocks, Bonds, Notes, Derivatives including Swaps, FX, Money Market Instruments, and more.
The Stock module uses real-time market feeds and news feeds from IEX Cloud and provides the most comprehensive Portfolio/Security analytics for unlimited positions and portfolios. Thousands of calculations are performed on millions of data points and displayed for output such as Factor Analysis using 5 and 6 Factors, Back-Test, Ratios, Portfolio Optimization, Statistics, Metrics, VaR/CVaR, Stress Test Scenarios, Correlations, Covariance, Financials, F-Score and Z-Score calculations, 10K Reports, Balance Sheet/Income Statement, Earnings, Insider Transactions, Charts, Chat, Custom Reports in PDF, Word, HTML, CSV, and much more.
The Plaid Investment API integration will allow users to directly connect their Zoonova account with their Brokerage account. This facilitates the direct importing of any positions and dividends into their Zoonova Trade Blotter for analysis in the Zoonova platform allowing users to play on a level playing field with any Professional Investors and Traders. Brokerage institutions that are covered include Fidelity, E-Trade, Robinhood, Vanguard, Betterment, Wealthfront, TD Ameritrade, Charles Schwab, Interactive Brokers, Trade Station, JP Morgan, Morgan Stanley, Chase, Wells Fargo, Merrill Edge, and many more.
Zoonova.com runs in the cloud, in any browser, on any device, and is encrypted and secure. A user can sign up for a Free 60-day trial period and a subscription for the entire platform is only $30/month.
API for Stock Trading and Investing coming soon.