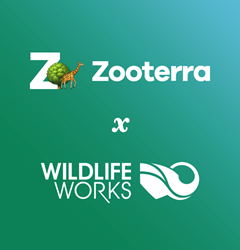 "The user experience behind nature conservation is lagging behind new digital norms, making it particularly challenging to attract new supporters" said Julio Corredor, CEO of Zooterra
NEW YORK (PRWEB) February 12, 2019
Zooterra, a leading innovator in wildlife and habitat conservation consumer engagement, today announced the signing of a strategic partnership with Wildlife Works, the world's leading REDD+ (Reducing Emissions from Deforestation and Degradation) program development and management company, with the goal of democratizing engagement around nature conservation.
Starting March 4th, users on Zooterra's patent-pending platform will be able to buy digital collectibles, called "terras", each linked to one hectare of the Kasigau Wildlife Corridor, a 200,000 hectare (500,000 acre) area of dryland forest in southeastern Kenya protected by Wildlife Works. Three different conservation projects from the Kasigau Wildlife Corridor will be supported with each terra purchase on the Zooterra platform: aerial surveillance, wildlife water pans, and efficient agricultural techniques.
For over 20 years, Wildlife Works has worked with the local community in the Kasigau Wildlife Corridor region to establish long-terms jobs and community programs that replace unsustainable sources of income such as poaching and illegal tree harvesting. In an area where wildlife and human survival were at odds, Wildlife Works has created a market-driven solution to wildlife conservation on the ground. With the purchase of the terra collectibles, Zooterra users are given a new and personalized way to positively impact the habitat and wildlife conservation of this region.
The partnership represents the beginning of a new approach to nature conservation engagement. Of the $390 billion donated each year to charities in the US, only $9 billion goes to environmental causes and one major reason is lack of transparency and engagement.
"According to Zooterra market research, 82% of charity donors do not know where their money is going. Donors get frustrated by their inability to track the impact of their donation and select the specific location, project, or wildlife they would like to support. The user experience behind nature conservation is lagging behind new digital norms, making it particularly challenging to attract new supporters. That is precisely where Zooterra comes in with its user-centric approach. People should not have to sacrifice transparency and ease-of-use to reap the benefits of supporting nature conservation. We are fortunate to partner with Wildlife Work, an organization with a rich history of innovation and tangible results in conservation" said Julio Corredor, CEO of Zooterra.
"We are running out of time to preserve biodiversity around the world, and getting more people involved has never been more important. Over the years, we have pioneered innovative approaches to conservation models that show the incredible value and potential of nature. We are excited to partner with Zooterra to engage the broader community in nature conservation using the latest trends in digital, satellite imaging, and digital collectibles," said Mike Korchinsky, Founder & CEO of Wildlife Works.
The first set of collectibles from the partnership will be available on March 4. To learn more about Zooterra and get early access to the platform, visit http://www.zooterra.com.
About Zooterra: Zooterra is a patent-pending platform to engage in wildlife and habitat conservation in a direct, transparent and fun way using digital collectibles and satellite imaging technology. Zooterra personalizes the nature conservation experience by more directly connecting consumers to natural areas and wildlife. This breaks the degrees of separation between people and nature and creates the opportunity for more meaningful engagement and to generate more funding for conservation. Zooterras mission is to democratize engagement and action around habitat and wildlife conservation. Learn more at http://www.zooterra.com
About Wildlife Works: Wildlife Works is the world's leading REDD project development and management company with a unique approach to applying innovative market-based solutions to biodiversity conservation and helping local landowners in the developing world monetize their forest and biodiversity assets. Wildlife Works is actively developing a portfolio of REDD projects with an aim to protect five million hectares of native forest, mitigating 25 million tons of CO2 emissions per year, and creating thousands of sustainable jobs in rural communities. Learn more at http://www.wildlifeworks.com