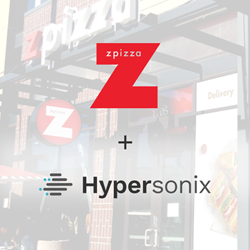 Hypersonix has helped us drive real change. We have been able to test and evaluate promotion designs and model their impact before rolling them out throughout the system
LAGUNA BEACH, Calif. (PRWEB) November 09, 2020
zpizza is scoring impressive results from its latest round of promotions, with the help of an Enterprise Intelligence solution from Hypersonix.
"There were significant gains in traffic and sales," said Brandi Babb, VP Operations of zpizza, which operates and franchises a chain of gourmet-casual restaurants under its zpizza banner in Arizona, California and Oregon. "We ended up with the impact we had hoped for, and more."
Late last year, zpizza had deployed an advanced AI solution from Hypersonix to improve analytics and decision support across its store network. The challenging operating environment of the pandemic motivated a fresh look at how its promotions were structured.
Said Ms. Babb, "Hypersonix has helped us drive real change. We have been able to test and evaluate promotion designs and model their impact before rolling them out throughout the system."
The two promotions were designed and deployed based upon Hypersonix Promo Intelligence analyses. Highlight of the results included:

Average Store traffic increased by 9% chain-wide
Store promotion sales for the two deals jumped by 2.7X and 8X
Top 9 stores saw extremely strong uptakes with traffic increases ranging from 32 to 107% during promotion, with one store seeing a 132% increase
Notably, half of the top-performing stores had been categorized as "hard to influence" because other recent promotions had not been effective there, said Ms. Babb. "Hypersonix Promotion Intelligence helped us identify promotions that lifted traffic in those locations."
After the COVID-19 pandemic forced the company to close its dining rooms last Spring, insights from the Hypersonix platform were crucial for making the right adjustments to the company's promotional approach, said Ms. Babb.
Tried-and-true zpizza promotions like "Free Slice Day" which focused on its vigorous dine-in lunch trade, were suddenly less relevant with many customers working from home instead of nearby offices. The company pivoted to deals like 50% off any large pizza, and family bundles, which appealed more to at-home dinner occasions.
"We actually pulled our marketing plan last March, and in full honesty, we were adjusting it week by week for the first few months based on what we were seeing in the data," she said.
Founded in 1986 in Laguna Beach, California, zpizza is an artisan-inspired pizza chain that appeals to traditional pizza lovers, health-conscious consumers, and gourmet palates. It offers hand-tossed pizzas and a complete menu of engaging appetizers, salads, and sandwiches, inspired by California and a healthy way of life.
"zpizza is a nimble company that quickly recognized the strategic benefits that can be realized from a smart Enterprise Intelligence system," said Rama Rao, Hypersonix co-founder and Head of Product and Data. "It is very rewarding to observe how our solution has helped the company to optimize promotional offers and react faster to changing market conditions."
Hypersonix offers a unified, AI-powered Intelligent Enterprise Platform for e-commerce, grocery, restaurant, hospitality, and other consumer-focused industries. The solution leverages the latest innovations in augmented analytics, data science, machine learning, and Natural Language Processing (NLP) to turn data into actionable intelligence in real-time, allowing decision-makers to make better, faster, and more confident daily decisions.
"Overall, these promotions were a very strong validation of actionable recommendations from Hypersonix intelligence, and we plan to continue implementing more like these," Ms. Babb added, "I am incredibly happy to see the direct impact of the data supporting our strategic goals."
About Hypersonix, Inc.
Hypersonix offers restaurants a unified, AI-Powered Intelligent Enterprise Platform enabling profitable revenue growth. Built with the latest innovations in augmented analytics, data science, ML and NLP, it incorporates a full array of descriptive, diagnostic, predictive, & prescriptive intelligence. Hypersonix customers enjoy a holistic understanding of what's happening in their business, why it's happening, and what they should do about it.
Intelligence Apps offered by Hypersonix include the latest AI-enabled innovations and best practices for merchandising, marketing, store operations, and supply chain management. It works with all existing applications eliminating silos and offers unparalleled ease-of-use for technical and non-technical decision-makers. The platform offers a simple, fast '"Google-like'" experience supported by '"Jarvix,'" a virtual assistant.
Designed for Retail, Restaurant, Hospitality, e-Commerce, Consumer Packaged Goods (CPG), and Brand Manufacturers. Hypersonix helps clients drive profitable growth, save money and improve customer engagement. Founded in 2018 by former executives from SAP, PayPal and IBM, the company has been featured in the Wall Street Journal, Fortune, TechCrunch, along with other outlets. It is based in San Jose, with offices in Sacramento, California and Bangalore, India.