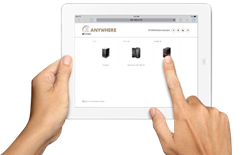 The never-stopping introduction of new mobile devices poses new challenges since users may now need mainframe access on a wide range of devices.
Wilmington, DE (PRWEB) August 01, 2017
Cybele Software, Inc. is pleased to announce the latest version of z/Scope Anywhere, v8.0. This product is designed to securely provide access of host systems to employees, contractors, clients, and other users globally with no setup required on the client side.
Corporations, higher-educational institutions, and organizations looking for secure, ubiquitous, and easy-to-manage access of their IBM Mainframes, AS/400, and Unix-based host systems are finding that z/Scope Anywhere is the right solution. This product provides terminal emulation over browser on virtually any operating system or device, including Chromebooks. It supports both touch screens and virtual keyboards providing a truly usable access experience on mobile devices such as tablets. It provides robust support for multiple protocols including TN3270E, TN5250E, TN3287, TN3812, VT100, VT220, VT320, VT420, SSH1 and SSH2 Telnet Servers, and SFTP.
Security is always a concern when interacting with critical systems and sensitive data, and the new z/Scope Anywhere 8 retains all the features of the previous version—including security. z/Scope Anywhere was designed to provide a secure 128-bit encrypted connection. It supports TLS (Transport Layer Security), uses Secure Shell Version 2 (SHH2), and provides secure FTP connections using the SSH File Transfer Protocol (SFTP). Although depreciated, certain legacy security protocols are also supported including SHH1, SSL2, and SSL3.
While the product has always been feature rich, with this newest release of z/Scope Anywhere, Cybele Software greatly enhanced the product's feature set, flexibility, and user experience.
Version 8 introduces a new and improved user interface (UI). With a goal of providing a variety of ways to comfortably view and navigate between multiple active sessions, version 8 retains the Classic mode of older versions and introduces a Cover Flow display mode that allows the user to visually flip through the connections, a Gallery mode that displays the connections as thumbnails, and a grid mode that aligns and displays the connection sessions in a grid pattern. Additionally, browser tabs can also be used to manage distinct connections among host systems.
Significantly, printer terminal emulations (TN3287 and TN3812) are supported in this latest version. z/Scope Anywhere now allows easy access to print job files, printing queues, a print preview feature, and other printing functions. In addition, print jobs can be sent to either a browser-side printer or downloaded to a file.
Many authentication options are available in version 8, including the simplified single sign-on (SSO), logon, OAuth/2 (Google, Facebook, etc.), and RADIUS. Anonymous access connections are now an option with the ability to generate a One-Time URL (OTURL) to avoid the login process for the URL holder while still requiring authentication for standard users. These URLs expire upon use or after a specified time and are a great way to provide temporary access. If these options are not enough, it is also possible to create a customized authentication process using the provided security API.
If there is a need to integrate access to z/Scope Anywhere from external applications, a new HLLAPI JavaScript interface is provided to facilitate the integration. Another notable feature for integration is the new option for direct access to an emulation screen through a dedicated virtual path for a connection, allowing the bypassing of the standard landing page.
Cybele Software understands the need to control costs so they have made z/Scope Anywhere, version 8.0 an affordable yet powerful solution. It is licensed per concurrent user, and pricing starts at $80. This includes a permanent license, as well as support and updates during the first year.
For more information and details regarding z/Scope Anywhere and licensing, please visit http://www.cybelesoft.com/zscope/web-terminal-emulator.aspx or contact Cybele Software, Inc.
Requirements
A server machine running a Windows OS is required. For scaling and load balancing deployments, a gateway server(s) running a Windows OS is required.
Compatible host systems include IBM mainframes, AS/400, and Unix-based systems.
The client machine requires an HTML5-compliant Web browser such as Microsoft Edge, IE10/11, Safari, Opera, Chrome, or Firefox.