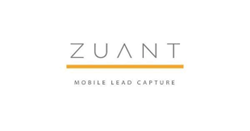 "Part of dealing with the challenge of optimizing lead gen is generating more leads, but we also need to improve converting leads we already generate into opportunities. Solutions like Zuant's blend the technology and processes to make that happen," said Jim Dickie, Sales Mastery Research Fellow.
LONDON, LOS ANGELES and NEW YORK (PRWEB) March 11, 2020
Zuant understands the pain of leads that die from neglect after an event. To prevent this, the award-winning mobile lead capture cloud solution, announces Zuant Lead Follow-up. Generated from the Zuant app, event leads flow automatically into it's Marketpoint system for follow-up. This seamless lead flow process ensures leads are followed up quickly and nurtured through to close.
"In our latest research survey, topping the list of operational improvement goals for sales in 2020 was optimizing lead generation," says Jim Dickie, Sales Mastery Co-founder and Research Fellow. "Part of dealing with that challenge is generating more leads, but we also need to improve converting the leads we already generate into opportunities. Solutions like Zuant's blend the technology and processes needed to make that happen."
Today's modern marketer is tasked with generating leads for sales that ultimately produce revenue. Events represent a whopping 22% of today's marketing budget, according to Salesforce.com. After investing $50,000 on average to exhibit at an event, marketers often return home with nothing to show.
Surprisingly, 80% of B2B leads are never followed-up on after an event by marketing or sales. B2B brands who do follow up take 50 days or longer to do so. Prospective clients expect to be approached quickly after a booth encounter and will discount any positive exchange that occurred during the show because of this lackadaisical approach.
Failure to follow-up on leads after an event can be due to disparate systems, lack of lead ownership between marketing and sales, as well as complicated or missing processes handling leads. It's criminal, according to Zuant Founder and CEO, Peter Gillett. With Zuant Lead Follow-up there is no excuse for leads to go cold anymore.
Lead Follow-up gives existing Zuant clients the power to efficiently follow up on their leads post-show thereby driving sales and tracking marketing ROI. The just-in-time solution transforms this critical stage of the event/lead lifecycle, to encourage sales people to take quick action, be accountable, and capture all of the necessary detail required to successfully close the sales, while minimizing manual input.
According to Zuant client, Interroll, fast lead follow up is critical because of the high value B2B market in which they compete. "It is a waste of our tradeshow budget unless we follow up quickly on every piece of potential business," notes Interroll Marketing Director, Giulio Bassi. "Zuant allows us to create the best impression with our prospective customers by being the first to make contact after an event."
How Zuant Lead Follow-up Works
Lead Follow-up integrates into the Zuant app providing a seamless flow of data and a structured post-show process. Sales reps are assigned to leads captured, prompting the auto-distribution of email notifications containing key lead details. Upon receiving the email, they are intuitively directed to the login page to view the full lead details and active fields for their information capture - including further notes, next action, and feedback. Designed to help 'close the loop', this data is fed into the system for key client personnel to access for reporting, performance tracking and easy exports.
Zuant combines event badge scanning with the option of high speed business card scanning using OCR technology to transcribe the data. Event managers and sales reps access their company's content marketing portfolio when meeting with prospects in real time, and capture additional lead qualifying questions on mobile devices. Lead data is fed directly into their Marketing Automation and CRM systems for lead nurturing and sales follow-up back at home base, as part of the overall streamlined process.
About Zuant
Zuant is a native iOS App, which can run offline and synchronize with its Zuant Cloud portal when an internet connection is available. This makes it ideal for any environment, and can be left in Kiosk Mode collecting data from the public, which in turn can be viewed in a central global location using multiple questionnaire forms and languages. Data is collected with the highest level of security and privacy, and full GDPR compliance is offered for the new EU legislation this year.
About Zuant, the Company
Founded by tech innovator Peter Gillett in 2008, Zuant provides mobile lead capture solutions for companies seeking to maximize their investment in tradeshows. The name Zuant is derived from the Anglo-Norman word, suant, meaning fast and light, and symbolizes the ease in which leads are able to be captured on the go and fed into their Marketpoint CRM system for fast post event follow-up. Peter created the world's first web-based CRM system funded by Lucent Technologies in the 1990s. CRM, lead generation and follow-up are still the focus for Zuant and its network of NACCENT call centers around the globe. Zuant has over 575 clients including 3M, Tesla, ADP, Dow Chemical, Ferrero, Honeywell, Sleep Number, Uber, Verizon, Volvo and others across all industries. Zuant has offices in London, England, Los Angeles, CA and New York, NY. For information, visit the Zuant website http://www.zuant.com.