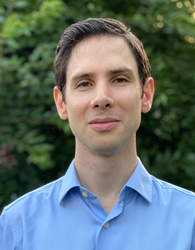 "We are thrilled to welcome Adam to the Zulu Pods team. His mastery in solving technical challenges is indispensable on our path to advancing the entire aerospace and defense industry." - Rob Sladen, Chief Executive Officer and Co-Founder, Zulu Pods
MIAMI (PRWEB) August 16, 2022
Aerospace and defense company Zulu Pods, focused on revolutionizing jet engines with enhanced and decentralized lubrication systems, today announced that Adam Smedresman has joined the company as Vice President of Product Development. In this role, Smedresman will focus on maturing the company's intellectual property portfolio and facilitating all aspects of technology and product development.
With demonstrated success in driving hardware from concept through manufacturing and validation as both an engineering team leader and analyst, Smedresman comes to Zulu Pods most recently from Amphenol RF, where he was a Senior Project Design Engineer and in charge of developing company-wide structural analysis methods and capabilities.
Previously at Pratt & Whitney, Smedresman held the position of Advanced Engine Program Structures Team Leader. He managed the team responsible for ensuring the structural integrity of all oil-wetted components, including bearing compartments and outboard accessories, through multiple development phases. Additionally, he spearheaded a multi-year Technology Development Program specifically created for his spring-damper invention, which allows for smaller bearing compartments, amongst other benefits. He successfully advanced its readiness level by leading parameterized optimization, analysis, prototype fabrication, and rig design. Smedresman has been issued ten US patents that improve key engine metrics, with four more pending.
"We are thrilled to welcome Adam to the Zulu Pods team. His mastery in solving technical challenges is indispensable on our path to advancing the entire aerospace and defense industry," said Rob Sladen, Chief Executive Officer and Co-Founder of Zulu Pods. "His innovative nature makes him a perfect fit for our creative team."
"Zulu Pods has found opportunities to deliver multi-pronged engineering improvements in many turbomachinery applications," said Smedresman. "The team constantly generates new concepts, often venturing outside of traditional aerospace design engineering. We also have the technical capabilities to rapidly analyze and validate our inventions. I am honored to be part of such a unique and broadly talented team, and am very excited to help lead the product development process."
Smedresman holds an M.S. in Aerospace Engineering and a B.S. in Mechanical Engineering, both from the University of Michigan, Ann Arbor. While at this top ten engineering school, he was a Research Assistant in the Computational Thermo-Fluids Group led by Clarence L. "Kelly" Johnson Professor and Department Chair Wei Shyy. Smedresman's contributions included manufacturing micro air vehicle propellers and developing a sensitive wind tunnel test stand. His experimental results were published in an AIAA conference paper. He also contributed historical research to the group's book, Aerodynamics of Low Reynolds Number Flyers (2007). At Michigan, Smedresman was also a Teaching Assistant, instructing a weekly lab focused on powered mechanism design.
Smedresman's many patents span a range of turbomachinery technologies, including spring-damper systems, housings, seals, and lubrication. He received multiple awards at Pratt & Whitney, including the Department Innovator of the Quarter award (twice), Innovation Competition Seed Funding, Advanced Technology Development Funding, and the TALON Award in recognition of contributions that enabled innovative solutions to military customer needs.
About Zulu Pods
Zulu Pods is a woman-owned aerospace and defense company focused on reimagining and redesigning more efficient lubrication systems. The ZPod is the company's unique and patented packaged oil delivery system. Through compact packaging and 3D metal printing, ZPods are small enough to fit in the palm of a hand, offering significant cost and weight savings as well as improved performance. In addition to ZPods' application in single-use engines, they can function as a mechanical system's lubrication reservoir. Initially designed for helicopters, a ZPod reservoir system can extend flight time in a loss-of-lubrication event, which could help save lives and multimillion-dollar assets. For more information, visit zulupods.com.