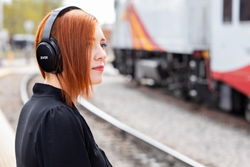 SWAMPSCOTT, Mass. (PRWEB) May 23, 2019
ZVOX Audio, one of the world's most innovative audio companies, has announced the debut of the AccuVoice AV50 Noise-Cancelling Headphone. The latest addition to the ZVOX family of AccuVoice products that deliver a better listening experience through dialogue enhancing technology, the AV50 is the first high-performance noise cancelling headphone from a major audio brand to be available at a truly affordable price (MSRP: $149.99). The AV50 not only offers superior sound, comfort and enjoyment for music listening, but also employs ZVOX's renowned AccuVoice technology to lift voices out of background sounds so wearers, even those with mild hearing loss, can understand TV and movie dialogue clearly, even at low volumes.
Great Music Listening, Plus Noise-Cancelling and AccuVoice Technology for Better a Video Experience
The AV50s offer unmatched music listening, immersive, realistic high-fidelity sound, including tight, accurate bass and pure sonic enjoyment. But that's just the beginning. They also offer Advanced noise cancellation technology that makes them indispensable for frequent travelers and on-the-go "road warriors." Two separate microphones constantly monitor external noises - and then use phase-reversal algorithms to negate or "cancel" those sounds. Noise from jet engines, wind, crowds and air conditioners are all dramatically reduced or eliminated, making the AV50s the perfect travel or commuting companion.
In addition, the AV50s are great for TV watching, thanks to their AccuVoice technology which boosts voices and reduces unwanted background noise. Even users with mild hearing loss can understand dialogue clearly, without having to crank up the volume. AccuVoice is particularly beneficial for watching movies and TV shows with poorly recorded dialogue or extremely loud special effects.
AV50s can be connected using the supplied cord, or connected to a phone, tablet, laptop computer, or it can connect wirelessly to a TV via a third-party Bluetooth streaming device. The AV50s use aptX Bluetooth technology, which delivers very high quality sound - much better than standard Bluetooth.
The super comfortable and luxurious AV50s are lighter than many noise cancelling headphones - less than half a pound. And they are equipped with memory foam padding on the ear cups and headband.
The microphone in the right ear cup of the AV50s enable users to easily make hands free phone calls with their mobile phone. Best of all, thanks to the advanced noise-cancelling, you always hear the caller, not the crowd around you.
Last but not least, it's easy to travel with AV50 headphones because they fold flat. Stick them in their padded carrycase and the whole package is about the size of a paperback book. The AV50 headphones are available in black, red, blue and rose gold and can be purchased at http://www.ZVOX.com.
About ZVOX
ZVOX, a pioneer of simple home theater solutions is recognized for introducing the first commercially successful sound bar in 2004, the first soundbase TV audio system in 2008, and the first speaker dedicated to dialogue clarity in 2016. The company has been committed to enhanced hearing solutions for over 15 years. For more information visit: http://www.zvox.com.
ZVOX Audio, 17 Columbia St., Swampscott, MA 01907
Press contact: Sara Trujillo, sara(at)trujillopr(dot)com
http://www.zvoxaudio.com, info(at)zvoxaudio(dot)com