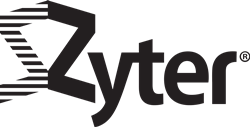 "This award further solidifies our footprint and establishes our reputation as the digital platform of choice for leading enterprises in every market from healthcare to media and entertainment, government and beyond." - Harish Pai
ROCKVILLE, Md. (PRWEB) December 16, 2019
Zyter, the leading provider of a complete, end-to-end digital experience platform that leverages the power of the connected enterprise, announced today it was selected as a winner in the 2019 "NVTC Tech 100" awards. The annual Northern Virginia Technology Council awards program distinguishes the top companies and executives that have demonstrated dedication, vision and innovation within the region's technology industry. Zyter ranks among the top groundbreaking companies, leaders and innovators in the Greater Washington region.
"We are honored to be recognized as one of the most innovative technology companies around the nation's capital," said Harish Pai, senior vice president and chief technology officer at Zyter. "This award further solidifies our footprint and establishes our reputation as the digital platform of choice for leading enterprises in every market from healthcare to media and entertainment, government and beyond."
Zyter empowers enterprises across all major industries to enhance digital user engagement, business productivity and security. For instance, in the healthcare industry, Zyter enhances the patient experience and improves clinical outcomes by enabling real-time communication, interoperability of clinical systems, IoT device integration, interactive navigation of facilities and asset tracking. In the media and entertainment industry, Zyter's experiential event app enables visitors to manage registrations, navigate events, build personalized schedules and stay on top of ticketing and payments through push notifications. Having partnered with several of the nation's leading transportation companies, Zyter leverages the power of IoT technology to facilitate seamless navigation for commuters within busy terminals. And in the education industry, Zyter boosts student engagement by providing a holistic platform that manages the entire student lifecycle, from registration to graduation.
"We are excited to announce Zyter as an NVTC Tech 100 honoree. Zyter's unique vision and dedication to industry innovation truly makes them stand out as a technology leader in the region," stated Bobbie Kilberg, president and CEO of the Northern Virginia Technology Council.
The 2019 "NVTC Tech 100" list is comprised of 100 top technology companies and 25 executives that are considered to be the best and brightest in the diverse and thriving technology ecosystem. The individuals and companies on the 2019 list are accredited for driving technology innovation, implementing new solutions for their customers and leading overall industry growth throughout the Greater Washington region.
To view the full list of 2019 "NVTC Tech 100" winners, visit: https://www.nvtc.org/NVTC/News/News_Articles/Northern_Virginia_Technology_Council_Announces_the_2019_Tech_100_Honorees.aspx.
About Zyter®
Zyter® is the leading provider of a complete, end-to-end digital experience platform that leverages the power of the connected enterprise to deliver superior digital experiences. Founded in 2016 by serial entrepreneur Sanjay Govil, Zyter® empowers Fortune 500 companies to unlock valuable insights across the enterprise to perfect workflow fulfillment and enable intelligent engagement. With features such as analytics, real-time location service, enterprise messaging, integrated video and audio, smart content management, scheduling and open application integration backed by military grade security, Zyter® helps enterprises across all major industries better communicate, connect and collaborate with end-users. For more information visit https://zyter.io/ and follow on Twitter @Zyter_official.
About the Northern Virginia Technology Council
The Northern Virginia Technology Council (NVTC) is the membership and trade association for the technology community in Northern Virginia. As one of the largest technology councils in the nation, NVTC serves about 1,000 companies from all sectors of the technology industry, as well as service providers, universities, foreign embassies, nonprofit organizations, and governmental agencies. Through its member companies, NVTC represents about 350,000 employees in the region. NVTC is recognized as the nation's leader in providing its technology community with networking and educational events; specialized services and benefits; public policy advocacy; branding of its region as a major global technology center; initiatives in targeted business sectors and in the international, entrepreneurship, workforce and education arenas; and the NVTC Foundation, a 501(c)(3) nonprofit charity that supports the NVTC Veterans Employment Initiative and other priorities within Virginia's technology community. Visit NVTC at http://www.nvtc.org.