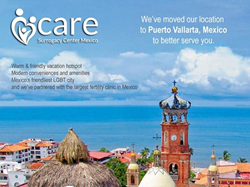 It's going to be the year of the gift — the gift of life.
New York, NY (PRWEB) December 30, 2014
With 2014 coming to an end, it's the perfect time of the year for CARE Surrogacy Center in Mexico to reflect on the year that was — a year that propelled the company to the top of the surrogacy industry.
The company has a remarkable ability to consistently hold one's attention at every turn. This was a year of widespread growth, a number of new accomplishments, successful events, and above all — many valued intended parents reached their ultimate dream of parenthood.
Let's revisit the milestones that CARE achieved over the last 12 months.
CARE Year in Review —
January: Poised to Become Leader of Gay Surrogacy Options
CARE kicked off the year with an intense and prominent plan to become the go-to destination for same-sex couples. This intense plan, CEO and Founder Tolga Umar says, "was inspired by our desire to unify with the LGBT community," and has been exemplified throughout the CARE program. Since January, the company has captivated international attention with its inspirational family building options for same-sex couples.
February: CARE's First Born Baby Entered the World
It was a month that filled the air with joy and love — and firsts. Of all the elations and challenges surrogacy journeys can bring, none is more extraordinary than welcoming the company's first baby. Behind a magnificent team effort, CARE baby Luca entered the world. For the company, it was a passionate and emotional achievement that forever marked the heart of the CARE program.
March: Launches Spanish Version of Website to Reach More Communities
After a successful beginning to the year, CARE launched the Spanish version of the website to offer a multilingual alternative that allows Spanish-Speaking intended parents to overcome prospective cultural barriers on their journey to building a family. In the process, "we increase the reach of our message — the insightful message that if your dreams of building a family is persistently followed, it can be achieved," states Mr. Umar, CEO of CARE Surrogacy Center.
April: Announces Industry-First Surrogacy Abroad Pregnancy Guarantee
In April, news broke that CARE would offer the first-of-its-kind pregnancy guarantee program for foreign intended parents. CARE's Guaranteed Pregnancy Program Details — If your 1st or 2nd attempt at IVF is unsuccessful, every attempt after is FREE until a successful pregnancy is achieved.
July: Mexico Surrogacy Protocol Approved by Spain Consulate
In July, a spokesperson for the Spanish Ministry of Justice announced that authorities will once again allow the registration of children born through surrogacy abroad. Spanish embassies and consulates abroad as well as offices of the Civil Registry in Spain will be instructed to register children born through surrogacy in Mexico — giving them Spanish citizenship.
August: Helping Expectant Parents through Alleged Surrogacy Issues in Cancun
With the alleged surrogacy issues that gained national media attention in Cancun, CARE went to work immediately to help expectant parents — by offering trustworthy guidance and a second chance to attain their goal of building a family. Standing true to transparency, the company remains consistent on day to day operations, social media, and protection for intended parents.
October: Traveled to Spain for inviTRA International Fertility Fair
CARE helped kick off the inviTRA Fertility Fair in Spain in November with an appearance from CARE extended families. The company has redefined the modern family, creating a legacy of distinction, and a place where miracles begin. The best fertility clinics, reproductive specialists, and surrogacy agencies around the globe were in attendance.
November: Unites with Traveling Donors of Africa; Celebrates Eleven Surrogate Births
November was a month for unity and celebration. The company has outpaced its struggling international colleagues and became a favored agency across the globe. CARE united with Traveling Egg Donors of South Africa to provide a streamlined egg donation program.
With their prestigious arrival — seven boys and four girls — were welcomed by proud parents from Italy, Spain, Mexico, the United States, and Colombia. CARE's Reproductive Lawyer, Ivan Davydov says, "Since November, we have had five more surrogate births, bringing us to 17 in 2014. The entire year has been incredible. As we move forward to 2015, we will continue to offer intended parents our full support, just as they have come to expect from us."
December: Rolls Out Industry-First Innovative Software; Partners with Fertility Clinic in Puerto Vallarta
Determined to end the year on a high note, CARE revealed their latest business conception — rolling out new software to push the surrogacy industry toward unfathomed statures. CARE Executive Director Brandie Umar says, "As a parent myself, I exhausted all possibilities to design software that would allow all of our intended parents to feel connected to the surrogacy process, from any distance, at any time. We were ecstatic to unveil this industry-first software after two years of concentrated development."
The company has also set the stage for what is to be their best year yet. While little details have emerged, CARE executives plan to capitalize on its promising partnership with the most advanced fertility clinic in Puerto Vallarta. By moving to one of the most fabulous destinations in the world, the company offers intended parents access to white-sanded beaches and unforgettable memories on their journey to parenthood. With an ongoing celebration for the LGBT community, Puerto Vallarta comprises of world-class gay-friendly hotels and elegant entertainment for daddies-to-be to relax and unwind.
Moving Forward to 2015 —
Fast forward to the present, the CARE team beholds an unending commitment to help build families made with love. But more than that, it's part of a larger commitment to a global approach, which calls for continued transparency — determinedly seamless and modest.
Moving forward to 2015, the CARE Surrogacy Center is strengthened by creative minds — taking cues from its several milestones and achievements in 2014. "To further strengthen the emotional value of our brand and to appeal to every generation, our move to Puerto Vallarta was a must. Days before the New Year, we have already achieved seamless anticipation, incisive simplicity, and captivating elegance. Here in Puerto Vallarta we have a masterfully beautiful surrogacy program and technologically advanced options all in one comfortable and highly functional location. It's going to be the year of the gift — the gift of life," stated Mr. Umar.
About CARE Surrogacy Center Mexico
The CARE Surrogacy Center in Mexico provides incomparable experiences for intended parents, encompassed by enhanced clinical pregnancy outcomes, abridged costs and a wide-ranging continuum of care. The vision of CARE is to represent and assist individuals and couples all over the world who want to build a family, regardless of sexual orientation or marital status. The Center embraces a positive approach to surrogacy with compassionate journey coordinators, expert IVF medical specialists using the latest technologies, and the expertise of the CARE surrogacy legal team.