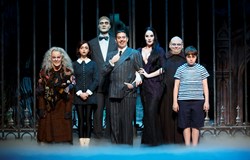 New Brunswick, NJ (PRWEB) October 09, 2013
State Theatre in New Brunswick, NJ presents the national tour of the musical The Addams Family, based on the bizarre and beloved family of characters created by legendary cartoonist Charles Addams, for three performances, Friday, October 25, 2013 at 8 p.m. and Saturday, October 26, 2013 at 3 p.m. and 8 p.m. A free Pre-Performance Insights lecture is available for each performance, one hour prior to show time at the United Methodist Church, located at 323 George Street. The Addams Family performances are sponsored by Magyar Bank. Tickets range from $35-75.
The cast includes Jesse Sharp and KeLeen Snowgren as Gomez and Morticia, Shaun Rice as Uncle Fester, New Jersey resident (Avon-by-the-Sea) Amanda Bruton as Grandma, Jennifer Fogarty as Wednesday, Sam Primack and Jeremy Todd Shinder as Pugsley, Dan Olson as Lurch, Mark Poppleton as Mal Beineke, Blair Anderson as Alice Beineke, and Bryan Welnicki as Lucas Beineke. Portraying the ancestors are James Michael Avance, Chloe O. Davis, Jake Delaney, Lexie Dorsett, Aaron Fried, Elizabeth Hake, Julia Lancione, Katie Mebane, Galloway Stevens and Julio Cataño Yee.
The Addams Family features an original story and it's every father's nightmare. Wednesday Addams, the ultimate princess of darkness, has grown up and fallen in love with a sweet, smart young man from a respectable family. A man her parents have never met. And if that weren't upsetting enough, she confides in her father and begs him not to tell her mother. Now, Gomez Addams must do something he's never done before - keep a secret from his beloved wife, Morticia. Everything will change for the whole family on the fateful night they host a dinner for Wednesday's "normal" boyfriend and his parents.
The Addams Family features a book by Marshall Brickman and Rick Elice, and music and lyrics by Andrew Lippa. The production is directed by Jerry Zaks with choreography by Sergio Trujillo. Production design (sets and costumes) by Phelim McDermott and Julian Crouch with set adaptations by James Kronzer. The production features lighting design by Natasha Katz, sound design by Craig Cassidy and puppetry by Basil Twist.
In a prolific career spanning six decades, Charles Addams created several thousand cartoons, sketches and drawings, many of which were published in The New Yorker. But it was his creation of characters that came to be known as The Addams Family that brought Addams his greatest acclaim. With a unique style that combined the twisted, macabre and just plain weird with charm, wit and enchantment, Addams' drawings have entertained millions worldwide and served as the inspiration for multiple television series and motion pictures.
The Addams Family, which began performances in March 2010 at the Lunt-Fontanne Theatre and ran through December 2011, immediately became one of Broadway's biggest hits. Chris Jones of the Chicago Tribune described the production as "classic, full-tilt, fast paced, old-fashioned musical comedy!" and John Simon of Bloomberg News called it "uproarious! A glitzy-gloomy musical entirely worthy of the macabre drawings by Charles Addams."
The Addams Family tour for North America is produced by Phoenix Entertainment, Stephen B. Kane, and Michael McFadden, by special arrangement with Theatrical Rights Worldwide.
For tickets or more information, call the State Theatre ticket office at 732-246-SHOW (7469), or visit us online at http://www.StateTheatreNJ.org. The State Theatre ticket office, located at 15 Livingston Ave, New Brunswick NJ, is open Monday, Tuesday, Thursday, Friday, 10 a.m. to 6 p.m.; Wednesday 11 a.m. to 7 p.m.; Saturday, 1 p.m. to 5 p.m.; and at least three hours prior to curtain on performance dates, unless otherwise specified. For information on group outings and discounts, call 732-247-7200, ext. 517. Some additional ticket and transaction fees may apply.
State Theatre, a premier nonprofit venue for the performing arts and entertainment. The theater exists to enrich people's lives, contribute to a vital urban environment, and build future audiences by presenting the finest performing artists and entertainers and fostering lifetime appreciation for the performing arts through education. The State Theatre's programs are made possible, in part, by funding from the New Jersey State Council on the Arts/Department of State, a Partner Agency of the National Endowment for the Arts, and contributions from numerous corporations, foundations, and individuals. The Heldrich is the official hotel of the State Theatre. Magic 98.3 is the official radio station of the State Theatre. The Star-Ledger is the official newspaper of the State Theatre. United is the official airline of the State Theatre.
STATE THEATRE
15 Livingston Ave
New Brunswick, NJ 08901
Ticket Office - 732-246-SHOW (7469)
Online - http://www.StateTheatreNJ.org
PHOTOS AND INTERVIEWS FURNISHED UPON REQUEST
Please contact Kelly Blithe at
732-247-7200, ext. 542 or by email at kblithe(at)StateTheatreNJ(dot)org.
Up-to-the-minute information on events and State Theatre news, online at http://www.StateTheatreNJ.org.
# # #