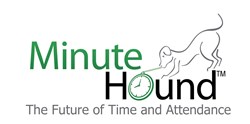 The benefits to law enforcement personnel parallels the benefits to the other sectors we serve
New York, NY (PRWEB) December 19, 2013
Offering biometric time attendance solutions to businesses of all sizes and in all industries, MinuteHound applies biometric fingerprint technology in a cloud-based format, allowing "live reporting" accessible from any Internet connection across the globe. Recently, the company announced the launch of innovative time and attendance software for applications by a multitude of disciplines, including law enforcement. With it, the scheduling and time/attendance needs for municipalities and local government entities can be managed through a specialized solution that takes into consideration the uniqueness of the operational processes associated with such industries.
"Utilizing biometric fingerprint technology, MinuteHound time and attendance software eliminates time theft from the workplace," explains a MinuteHound senior representative. "The benefits to law enforcement personnel parallels the benefits to the other sectors we serve – consider that our time clock software is cloud-based, making live reporting accessible from any Internet connection in the world and the fact that it is so advanced, it can manage the complex tendencies involved in approvals, pay calculations and time tracking in situations where individuals are employed in multiple positions and report to more than one supervisor.
"How does this relate to law enforcement personnel? Our time and attendance software provides several key capabilities based on situation – for starters fingerprints are never taken. Our unique and patented algorithm break each print down into binary number therefore taking away any possible information risk. Also, at any given time a senior level officer can log in from anywhere and see where his unit is and what time they showed up, all in real time. Our software platform easily handles all aspects, making time and labor management simple while ensuring compliance completely through automation processes."
With no time cards to punch or inventory to keep, the MinuteHound system typically costs its clients just pennies a day without the hassle of learning curves, training or guidance due to the software's plug-and-play characteristics and intuitive 128-bit data transfer encryption. The MinuteHound time and attendance system continues to represent an innovative portal for employees to clock-in and out with their finger while allowing managers to view employees' attendance records in real time, 24 hours-a-day, seven days a week.
To clock-in and out, employees simply place a finger on the MinuteHound fingerprint scanner. All information is then fragmented into four secure servers on different continents across the world. Because the fingerprint is never stored unlike a traditional biometric time clock, it cannot be "reverse-engineered" or traced back to a single entity.
MinuteHound Contact Information
Website: http://www.MinuteHound.com
Email: info@MinuteHound.com
Phone: (800) 351-7237