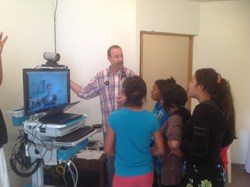 "There are no limits in providing this kind of access worldwide using technology" states Dr Jeffrey Kesler COO of GPT
(PRWEB) August 02, 2013
On July 18th, 2013, Georgia Partnership for TeleHealth (GPT) (http://www.gatelehealth.org), Louisiana State University Health Science Center (LSU) and Casa Para Ninos Aleluya (CASA) launched its first international telemedicine program. This partnership was formed through an ongoing relationship with former Louisiana Senator and Family Medicine Practitioner, Dr. Donald Hines and GPT's Chief Executive Officer, Paula Guy.
The mission was clear; Casa Para Ninos Aleluya was in need of pediatric specialties and primary care for over 400 abused, orphaned and mistreated children located on campus just outside of Guatemala City. The campus also known as Cuidad de Los Ninos (City of Children) was started in 1988 by missionaries Mike and Dottie Clark. Their vision for CASA is for the kids they serve to have a chance in life and by brining pediatric specialty care to their clinic it will change the futures of so many more. There are an estimated 200,000 orphaned children in Guatemala. The medical needs of hundreds of the children at CASA are met daily through a few nurses that manage a clinic on site. Mike stated, "It has taken several decades to develop this level of support for so many children and it is my hope that CASA will be run by those who grew up here and have decided to give back."
Mike also reported that the majority of the children brought to CASA have been neglected and abused and the telemedicine clinic will be a much-needed resource for the nurses on site for this level of specialty. There are children on dialysis as well. Matt Jansen, Executive Director for GPT, stated, "The clinic was up and online within 24 hours with the assistance of GPT's Les Evans. The first patient, Mari, was presented to an LSU physician and diagnosed with a heart condition that needed immediate attention. The nursing staff at CASA has been trained and certified as telemedicine presenters and will be provided with ongoing support by Georgia Partnership for TeleHealth as they continue to serve Cuidad de Los Ninos."
"Georgia Partnership for TeleHealth has aligned its mission to serve domestically and internationally and are seeing lives changed through getting access to care in these underserved areas. There are no limits in providing this kind of access worldwide using technology," states Dr. Jeffrey Kesler, COO of GPT. If interested in supporting CASA Para Ninos Aleluya, please visit their website at http://www.casaontherock.org. GPT will be providing support to the children through donated physician time. If you are interested in investing your time to serve at CASA Para Ninos Aleluya, please contact Matt Jansen, Executive Director, Georgia Partnership for TeleHealth at matt(dot)jansen(at)gatelehealth(dot)org.
Georgia Partnership for TeleHealth has become one of the most robust, comprehensive networks in the nation. GPT's experience in implementing Telemedicine includes nursing homes, school clinics, correction, specialty clinics, Emergency Department, ICU, stroke assessment, primary care, child advocacy, and continuing education. This statewide collaboration among policy, healthcare providers and patient adoption has led to a tremendous rate of success. In January, 2013 GPT reported patient encounters increasing from 8 patient visits in 2006 to over 75,000 in 2012. GPT now has over 350 locations with over 200 specialists and healthcare providers, representing over 40 specialties participating in network. Providing access to healthcare via telemedicine has proven to cut costs on travel, work time and provides earlier access to care therefore preventing the large costs of untreated healthcare problems. GPT is the future of healthcare for Georgians. Contact us for more information on how to start your telemedicine program today.
Global Partnership for Telehealth's mission is to deliver worldwide access to healthcare. Our unparalleled success in the United States in applies telehealth programs and services has assisted agencies in providing cost effective, efficient, and high quality healthcare to hundreds of thousands. GPT is reaching beyond our borders to bring healthcare to the world.