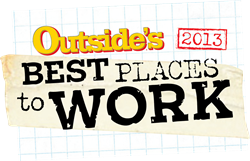 Year after year, Outside's Best Places to Work program demonstrates that America's most successful companies are the ones that consistently promote true work-life balance for their employees.
Bend, Oregon (PRWEB) August 01, 2013
Hydro Flask today was named to Outside Magazine's sixth annual "Best Places to Work" list. The company, which is celebrating its 4th anniversary this year, was ranked 27th of 100 selected companies. The full list of the top- performing small, medium, and large companies will be published online today at OutsideOnline.com/bestplacestowork. The list of winning companies is also included in the August issue of the magazine.
"We're proud to publicize the efforts of these 100 companies," said Outside editor Christopher Keyes. "They each show a real commitment to creating active, healthy work environments and put a premium on innovative benefits. Year after year, Outside's Best Places to Work program demonstrates that America's most successful companies are the ones that consistently promote true work-life balance for their employees."
As part of the ranking process, Hydro Flask employees completed confidential employee-satisfaction surveys to collect information about benefits, compensation, policies, job satisfaction, environmental initiatives and community outreach programs. Employer questionnaires about the same topics were also included in the program. The experts at the Best Companies Group then analyzed the results and selected the companies that best enable employees to pursue active lifestyles while also supporting their social and environmental contributions.
"Since our company's inception four years ago in Bend, Oregon, Hydro Flask has embodied a work hard, play hard attitude in a unique mountain town setting where we have the opportunity to test out all of our products right in our own backyard," said Scott Allan, CEO of Hydro Flask. "Our employees feel great about the mission of the company and the products that they stand behind, and our success can be attributed to their passion and dedication. We are all honored to receive this recognition."
In addition to the comfortable, open work environment, Hydro Flask offers a generous benefits package and paid time off, profit sharing program for employees, paid time off for individual volunteer work and company-wide outings for volunteering. The company also offers tuition reimbursement and involvement in Commute Options, which rewards employees for biking, carpooling, telecommuting or walking to work. In addition, Hydro Flask hosts Friday lunches for all employees, and organized outings during lunch and after work, such as trail running and mountain biking.
Outside's "Best Places to Work" project celebrates the innovative companies setting a new standard for a healthy work-life balance. The list was compiled with the help of the Outdoor Industry Association and Best Companies Group. The yearlong selection process began with an outreach effort that identified a wide range of non-profit and for-profit organizations with at least 15 employees working in an office in the United States.
About Hydro Flask
Hydro Flask® began in the summer of 2009 with an epiphany on a Hawaiian beach, and became a reality in beautiful Bend, Oregon, one of the country's premiere outdoor playgrounds. The company's mission today is to save the world from lukewarm beverages.
Hydro Flask is now the award-winning leader in high-performance, insulated stainless steel flasks and has recently expanded into the food and beverage industry with its food flasks and industry-first and only double wall vacuum insulted 64oz growlers. Using only high-quality 18/8 stainless steel, Hydro Flask delivers what people on the go have been looking for: a durable flask that keeps hots hot, colds cold, is stylish, 100% recyclable and is backed by a lifetime warranty.
Hydro Flask believes that great flasks and great causes go hand in hand, and through its charitable arm, FivePercentBack.org™, offers a giveback program that allows consumers to allocate a portion of their flask sales to a charity they choose. For more about Hydro Flask's charitable mission and commitment to making a difference in the community, visit http://www.FivePercentBack.org.
About Outside
Outside is America¹s leading active lifestyle brand. For more than 30 years, Outside has covered travel, sports, adventure, health, and fitness, as well as the personalities, the environment, and the style and culture of the world Outside. The Outside family includes Outside magazine, the only magazine to win three consecutive National Magazine Awards for General Excellence, The Outside Buyer's Guides, Outside Online, Outside Television, Outside Events, Outside+ tablet edition, and Outside Books. Visit us online and on Facebook.
About the Best Companies Group
Best Companies Group works with national and local partners around the country to establish and manage "Best Places to Work," "Best Companies," and "Best Employers" programs on a national, statewide, and regional basis. Through its thorough workplace assessment, utilizing employer questionnaires and employee-satisfaction surveys, BCG identifies and recognizes companies who have been successful in creating and maintaining workplace excellence.
###
For more information, contact:
Hydro Flask: Judy Campbell, judy(at)campbellconsulting(dot)com / 541.410.9113(cell)
Or Sarah Williamson / Sarah(at)campbellconsulting(dot)com/541-306-3613
Outside Magazine: Jada Williams/ Jada(at)giantnoise(dot)com / 646.649.4933
Note to Reporters: For high-resolution images of Hydro Flask products, please visit our online media library at: http://www.hydroflask.com/media/download/hydro-flask-download-page.html.
http://www.hydroflask.com
http://www.twitter.com/hydroflask
http://www.facebook.com/hydroflask