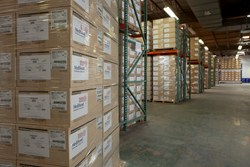 Dallas, TX (PRWEB) August 06, 2013
MediSend International recently shipped six forty-foot containers filled with medical supplies and equipment such as examination tables, surgical instruments, surgical gloves and masks, catheters, syringes and bandages to hospitals and clinics in Cameroon and Equatorial Guinea. ExxonMobil funded the shipments bound for Hospital Laquintinie de Douala and CEBEC Protestant Hospital in Cameroon, and Hospital of Añisok and the Centro de Salud de Batete in Equatorial Guinea.
MediSend's unique approach to assuring quality healthcare in developing countries includes humanitarian aid, training, education and technology, and ongoing support. Since 2007, Medisend's Biomedical Equipment Technology Program™ has been training biomedical equipment technicians from emerging countries to install, repair, maintain and correctly use biomedical equipment and to manage biomedical repair laboratories. MediSend provides continued support with tools and management technology for its graduates. The approach means a sustainable and measurable improvement in healthcare delivery.
Thanks to funding from ExxonMobil, MediSend has trained biomedical equipment technicians from both Cameroon and Equatorial Guinea.
MediSend ships millions of dollars of medical supplies and biomedical equipment to developing countries annually and has trained and equipped 97 biomedical equipment technicians now working in 17 countries worldwide.
For more information on MediSend and funding opportunities, go to MediSend.org or call 214-575-5006 X 112.