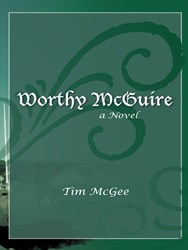 There is nothing stronger than the bonds of love and family.
TAMPA, Florida (PRWEB) August 08, 2013
A story of conflict, resolution and the bonds of family, Tim McGee shares the tale of a family torn apart by ego and emotion and reunited by a promise in his new book, Worthy McGuire.
Having been deeply impacted by a French family during the infamous Normandy invasion in World War II, Worthy McGuire pledged to return to the family after the war. Many years later, Worthy enlists the help of his estranged grandchildren to make a final pilgrimage to Normandy in hopes of finding that family and fulfilling the vow he made all those years ago. An emotional journey back in time, the adventure takes the family across the globe, ultimately landing on the beaches of Normandy. Facing the challenges of age, a dysfunctional relationship with his grandchildren and the avaricious agenda of his son and daughter-in-law, Worthy yearns to fulfill his promise and gain the closure he had spent his life yearning for.
Drawing inspiration from a stack of his father's letters from World War II and an inherited watch, McGee left his full time job at the age of 52 to pursue his passion for writing.
"My father was a solider in World War II, having volunteered when he graduated high school in 1944," says McGee. "I have always been fascinated with the time period and how significantly the war has impacted our world."
According to McGee, in today's culture of deteriorating values our elders, while not perfect, can teach us much about integrity, morality and ourselves. He reminds us that the courage and honesty displayed by our parents and grandparents is valuable and should be passed along to future generations.
"There is nothing stronger than the bonds of love and family," says McGee. "In the autumn of his life, the main character turns to his dysfunctional family for help and together they struggle to leave the past behind and face their fears."
Through the book, McGee teaches us that it is never too late seek out redemption, especially from family.
Worthy McGuire
By Tim McGee
ISBN: 978-1-475991802
Hardcover: $21.30
Paperback: $14.39
Kindle: $3.99
Available at Amazon.com and BarnesAndNoble.com.
About the author
The son of a World War II veteran, author Tim McGee was born and raised in the suburbs of Detroit, Michigan. He later earned a bachelor's degree in political science and history at Hope College in Holland, Michigan and spent over twenty years working in the pharmaceutical industry in New York and New Jersey. Tim currently lives with his wife, Ruth, and family on the sun-drenched beaches of Florida.