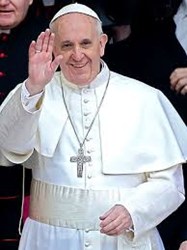 Opportunity for the whole world to see the plight of Christians in the Holy Land
(PRWEB) August 08, 2013
Fr. Peter Vasko, President of the Franciscan Foundation for the Holy Land (FFHL), heralded Pope Francis' announcement that he may visit the Holy Land next year as an opportunity for the "whole world to see the plight of Christians in the area." (Jerusalem Post 4/30/13)
Pope Francis said the visit – his first as head of the Church - would mark the 50th anniversary of Pope Paul VI's trip to Jerusalem in 1964. The announcement came on the heels of Israeli President Shimon Peres' recent visit to the Vatican. During that visit, Peres urged the pope to come to Israel, adding, "The sooner you visit the better, as a new opportunity is being created for peace, and your arrival could contribute significantly to increasing the trust and belief in peace."
Peres added, "I turn to you and ask that within your sermons in front of millions of believers in the world you include the hope for peace in the Middle East and the whole world."
Vasko said the pontiff's presence would also "shine a light on the dwindling Christian population in the Holy Land, and hopefully help ease living conditions in the area." Christians, once a majority in the area, have diminished to less than two percent of the population as restrictions on travel, education and work have increased. In many areas Israeli security has virtually kept Palestinian Christians prisoners in their homes.
Vasko said the Vatican has long supported FFHL programs, which provide education, housing and work opportunities for thousands of Palestinian Christians. Both Pope John Paul II and Pope Benedict XVI visited Israel during their tenures.
Pope Francis accepted Peres' invitation, but no date has been set for the trip.