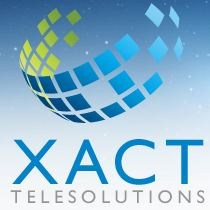 With our skilled and experienced email management team, we can now assist our clients with online interaction and free up more of their time for important business operations
UNITY, ME (PRWEB) August 12, 2013
XACT Telesolutions, a top-rated call center solutions company, is expanding its range of customer service outsourcing solutions with email management services, the company recently announced.
Now, current and future clients of XACT Telesolutions will have the opportunity to let the American-based call center handle both phone and internet communication between customers. The company's main reason for starting an email management department is to respond to the reality of increased email communication and offer an all-in-one customer service solution for its clients that covers the two most popular areas of interaction, phone and email.
"Although the phone is still a form of interaction highly appreciated by customers nationwide, email offers customer convenience on a new level," said Kathy Gray, the Director of Business Development at XACT Telesolutions. "With our skilled and experienced email management team, we can now assist our clients with online interaction and free up more of their time for important business operations."
The only thing that differentiates XACT Telesolution's email management solutions from its call center solutions is the form of interaction. The company is committed to keeping customer satisfaction and professionalism consistent throughout all mediums of communication. As more popular forms of communication surface in the future, the inbound call center will expand its services and expertise. Quality of delivery will remain consistent across all mediums.
This is evident through the company's mission statement that says, "We empower talented and dedicated personnel who perform and achieve their goals in a teamwork environment that stresses customer dedication, creative thinking, professionalism, and ethics."
Some of the services the new email management service includes are: responding to emails sent by customers and clients; filtering spam emails and other communication irrelevant to company; placing orders sent to company's inbox; and much more. All email management services are provided by communication specialists in touch with your unique business model and offering.
To get more details on XACT Telesolution's new email management services, contact Kathy Gray at Kathy.Gray(at)MyXACT(dot)com. You may also call 800-670-9228 or visit http://www.MyXACT.com.
About:
XACT Telesolutions uses state-of-the-art call processing technology to support communication between company and client. With over 100 years of combined experience, the call center has risen to the challenges of companies nationwide and met them with success. All employees at XACT Telesolutions are trained using forward-thinking training systems and taught the importance of excellent customer service.