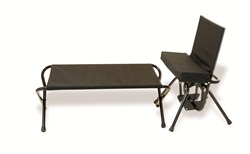 The IntimateRider is a small swing chair that is specially designed to enhance sexual mobility.
Burnsville MN (PRWEB) August 09, 2013
Couples who live with the effects of arthritis now have a new option to overcome physical barriers to a more satisfying sex life. The IntimateRider is bringing much sought after freedom and comfort to many couples who have been trying to find solutions for a more intimate love life. Arthritis can bring about physical challenges like fatigue, pain and stiff joints that present an obstacle in attaining sexual enjoyment for both partners. Enhanced intimacy for those with arthritis can help improve the quality of life for millions of people.
According to the Centers for Disease Control and Prevention, an estimated 50 million U.S. adults (about 1 of 5) report having doctor-diagnosed arthritis and as the U.S. population ages, the number of adults with arthritis is expected to increase sharply to 67 million by 2030. Arthritis is more common among adults aged 65 years or older, but people of all ages can be affected. Nearly two-thirds of people with arthritis are younger than 65. A healthy love life for those with arthritis is possible and can be very fulfilling for couples that are willing to be creative and ready to find ways to enhance their personal lives through effective communication and advancements in products like the IntimateRider.
Issues involving joint pain that are a result of arthritis are usually mechanical in origin and can be solved by incorporating products like the IntimateRider. Comfortable positions and gentle movements of the IntimateRider enhance sexual performance of those with arthritis and will ultimately increase enjoyment for both partners. The IntimateRider is a small swing chair that is specially designed to enhance sexual mobility and provides a natural motion that relieves stress for both partners who live with arthritis.
Communications between partners is important in finding solutions to maintaining a satisfying relationship. Learning each others comfort level is the first step of ensuring a way for a couple's personal and sexual relationship will sustain and develop. It is also important for people with arthritis to listen to their own bodies and share these feelings with their partners. This discussion will allow couples to discover the best ways enhance their personal relationship.
Learn more about the facts of arthritis and intimacy by visiting http://www.intimaterider.com/.