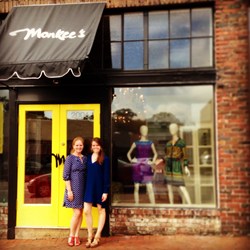 Since opening our store in Auburn and meeting all of my customers, so many inquired why we didn't have a store in Birmingham?
Mountain Brook, AL (PRWEB) August 12, 2013
Monkee's Franchising, LLC announces the opening of a second franchise location in Alabama, in the Mountain Brook community near Birmingham. There are now 23 independently owned and operated Monkee's boutiques in the United States.
Monkee's of Mountain Brook is the second location for franchisees, Mark Campbell and Melissa Cunningham-Campbell. The Campbells opened their first location, Monkee's of Auburn, in February 2012.
Monkee's of Mountain Brook celebrated their grand opening on August 1st with trunk shows featuring Lilly Pulitzer, Jack Rogers and Loren Hope Jewelry. In addition, the store has been merchandised with well-known designers such as Kate Spade, Britt Ryan, Frye, Elizabeth McKay, Minnie Rose, Moon & Lola, DL1961 Premium Denim, vintage Chanel button jewelry and many more.
The Campbells are excited to announce their daughter, Caroline, is the store manager at Monkee's of Mountain Brook. They believe living and working in the community will provide insight on local style trends and needs of individual customers.
"Since opening our store in Auburn and meeting all of my customers, so many inquired why we didn't have a store in Birmingham? I always thought it was a good idea but at that time I didn't know I would have a daughter that would be interested in the industry. After many times to market together and her invaluable help on merchandising, selecting vendors, and great eye for style, it became apparent that Caroline would be a natural fit for this career. I am thrilled to be able to bring this opportunity to Birmingham and also to my family," said store owner, Melissa Cunningham-Campbell.
The Campbells invite everyone to stop by the new boutique at 2006 Cahaba Road to enjoy a fun and personal shopping experience. Monkee's of Mountain Brook is open Monday- Saturday 10am-6pm. Follow them on facebook for special sale alerts, giveaways and style inspiration at facebook.com/monkeesofmountainbrook.
About Monkee's Franchising, LLC
Monkee's Franchising LLC is a franchisor of upscale ladies boutiques specializing in shoes, clothing and accessories. Headquartered in Winston-Salem, NC, Monkee's was founded in 1997 and has become one of the most successful organizations of independently owned boutiques in the Southeast. Our boutiques can now be found in Alabama, North Carolina, Kentucky, Ohio, South Carolina, Tennessee, and Virginia and we are excited as our growth continues nationally. Monkee's is recognized throughout this region as a leader in providing the finest fashions from the world's top designers. Visit us at http://www.shopmonkees.com.
Media Contact Information
Nicole Powell
nicole(at)shopmonkees(dot)com
###