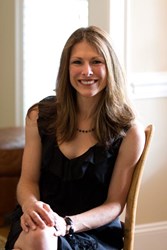 The children's book app market is just the beginning for self-publishers. Television and movies are next.
Charlotte, NC (PRWEB) August 16, 2013
Renowned children's author, Melissa Perry Moraja announced the launch of her first children's book app on Authorly. The Authorly book app creation tool, designed by Curious Minds, takes visual art and photography books, including children's books, and turns them into interactive mobile and tablet applications available on Android, Kindle Fire, and iOS devices.
Melissa plans to create apps for three of her children's books from her "Splatter and Friends" collection. Melissa's first book app for her children's book "Goodnight Goodnight Goodnight Baby Blue" is scheduled to be released by the end of the year. The additional "Splatter and Friends" books are expected to launch in the first quarter of 2014.
"I am eager to bring the stories and characters to life and share them with more children than ever before!" shares Melissa. "With more and more children toting around iPads, this is definitely a great space to tap into. I eventually want to bring my stories to the 'big screen' now I am one step closer."
The "Splatter and Friends" book apps will be available for sale through iTunes app store and Amazon for use on Android, Kindle Fire, and iOS devices.
About Melissa Productions, Inc.:
Melissa Perry Moraja is an entrepreneurial mom, a multifaceted business woman and a creative producer, authoring and illustrating numerous children's stories and self-help books. Founded in 2009, Melissa Production's mission is to offer humorous, inspirational products and services that promote self-awareness, creative learning, and leadership with the family in mind. With popular story book characters like Splatter, she speaks to children's hearts through humor and parents thoughts by providing educational stories. For more information, please visit http://www.melissaproductions.com.
About Authorly:
Authorly is a digital publishing platform that enables anyone to create interactive, cross-platform storybook apps. Using our intuitive web interface, authors can build beautiful, unique, and powerful native applications for Android and iOS smartphones and tablets. The app is developed by Curious Minds, a technology incubator in Hollywood, California.
Contact:
Melissa Perry Moraja
Founder and CEO, Melissa Productions, Inc.
704-246-7304
http://www.melissaproductions.com