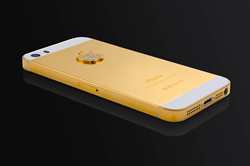 Los Angeles, CA (PRWEB) April 02, 2014
Design and branding pioneers Brikk™ (http://www.brikk.com) announce the launch of their gold or platinum-plated LUX line of devices. Brikk features device cases and jewelry for the luxury market crafted from precious metals, titanium and precious stones. The processes used are exacting and durable, and more commonly applied to scientific purposes such as space travel and exploration. Brikk's 'profit for philanthropy' model funnels proceeds to assist populations in need around the world.
The LUX line stands out in that the actual device is disassembled, hand polished, prepared and then plated with five layers of various metals and two layers of either 24-carat gold (yellow or pink), or pure 950 platinum. Diamond details are also available; the diamond iPhone 5s has 1.08 carats of diamonds (color DE and clarity VVS1 brilliant) set with a microscope in a custom machined bezel in the shape of the Apple logo. The LUX is also available for the iPad, iPad Mini, iPad Air, Samsung Galaxy Note 3 and Samsung Galaxy Gear. The devices are brand new, and unlocked for worldwide use.
The LUX Galaxy S5, LUX Galaxy Gear 2 and Lux iPhone 6 will be available in the coming months.
LUX iPhones range from $3,995 - $7,670 and are packaged in a custom metal box, with user manual and all accessories standard to the device. Each LUX is hand polished, plated and assembled in Brikk's state of the art laboratory in Los Angeles, USA and includes an exclusive 1 year warranty.
About Brikk™
Brikk designs and manufactures couture products and accessories for the technology, lifestyle, and fashion industries. A vision of CEO Cyrus Blacksmith, a designer of ruggedized computer systems and hi-tech media installations, Brikk's team consists of elite experts in Industrial Design, Engineering, Physics, Marketing and Distribution. Brikk is headquartered in Los Angeles where all products are currently manufactured, with offices in Germany, Hong Kong and Turkey.