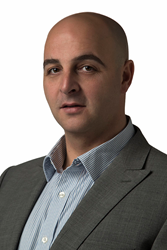 We look forward to benefitting from Luke's significant experience in this industry and in expanding businesses globally.
Alpharetta, GA (PRWEB) April 07, 2014
ClearStar, a leading technology and service provider to the background check industry, is pleased to announce that it has appointed Luke Battah, a veteran of the screening and background check industry, as Senior Vice President & General Manager of International Business based in the company's office in London, UK. This new position has been created to capitalize on the increasing demand for ClearStar's services outside of North America and to facilitate this growth.
Mr. Battah joins ClearStar from AIM Screening (formerly A.I.M. Limited UK), which, as Chief Executive, he was responsible for transforming from a UK-based consultancy into a global screening company with eight offices spanning Europe, Asia and Australasia. He brings more than a decade of experience in international employment screening and due diligence at the highest level, and he is widely recognized as an industry expert.
Reporting to Robert J. Vale, Jr., Chief Executive Officer of ClearStar, Mr. Battah is responsible for operations outside of North America and expanding the business internationally – with a focus on Europe (including some of the emerging European economies), Middle East, Africa, Latin America and the Asia Pacific regions. Based in the company's London office, Mr. Battah will strengthen ClearStar's presence and offering in the UK through product evolution, corporate development, strategic alliance development, mergers & acquisitions and enhanced sales & marketing efforts.
"We are delighted to welcome Luke to ClearStar," said Robert J. Vale, Jr., CEO of ClearStar. "The search for talent is increasingly global and borderless, and, as a result, we are experiencing growing demand for our services internationally. Our web-based solutions are ideal for satisfying this demand because they are portable and easy to integrate with other technologies. As we continue to capitalize on this trend, we look forward to benefitting from Luke's significant experience in this industry and in expanding businesses globally."
Whilst at AIM, Mr. Battah worked in close partnership with a number of established multinational companies as well as various governments in designing and deploying global screening programs. During this time, AIM Screening in Australia was also appointed as a member of the Industry Vetting Panel for the Department of Defense, providing Security Clearance Processing up to Top Secret level. He also assisted AIM in gaining Founding Member status in both the European and Asia Pacific chapter of the National Association of Professional Background Screeners (NAPBS). Prior to AIM, Mr. Battah worked with two of the top three global screening companies and was founder of Refsure Worldwide, an Australian-based screening company that rapidly grew into the market leader and was subsequently acquired by First Advantage.
"As a dynamic, growing business, I was instantly attracted to ClearStar," added Luke Battah, SVP & GM of International Business. "It has leading technologies and a strong team in place that has successfully built the company to the position where it is now. I'm excited to be working with them and helping them replicate their achievements globally as ClearStar reaches the next stage of its development and realises its growth potential."
About ClearStar
ClearStar, Inc. is a leading and trusted background check technology, strategic services and decision-making information provider to employers and background screening companies.
A six-time Inc. 5000 honoree and founding member of the National Association of Professional Background Screeners, ClearStar has provided innovative technology solutions to businesses in the human capital management industry from its corporate offices in Alpharetta, Georgia since 1995. For more information about ClearStar, please visit: http://www.clearstar.net.