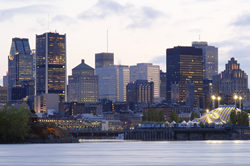 Co-locating our Canadian operations under one roof simply makes sense for so many reasons and we are excited to be moving to the heart of Montreal's vibrant downtown core. Seth Brown, CEO Adacel
Montreal, Canada (PRWEB) April 08, 2014
Adacel announced today that the Company has relocated its Canadian operations to new facilities in downtown Montreal. The move will co-locate the Company's Air Traffic Management (ATM) and Air Traffic Control (ATC) simulation resources that were previously housed at two separate locations in the Montreal suburbs of Dorval and Brossard, Quebec.
Adacel's new offices are located at 895 De La Gauchetiere West in Montreal's vibrant 'Quartier International' district. Their facilities occupy the entire 30,000 square feet of the 3rd level of the historic Montreal Gare Centrale train station complex, which sees around 18 million rail passengers each year. The complex is connected to the largest underground shopping mall in North America and is located across the street from the International Civil Aviation Organization (ICAO) headquarters near the tourist hotspot of 'Old Montreal'.
Adacel's corporate head office is located in Melbourne, Australia and the Company maintains their North American headquarters in Orlando, Florida.
About Adacel
Adacel is a leading developer of operational air traffic management systems, speech recognition applications and advanced ATC simulation and training solutions. The Company's products are widely used throughout North America, Europe, the Middle East and the Asia Pacific region.