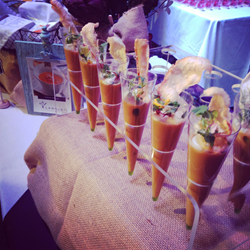 Our dish for the event was a tribute to New Orleans cuisine, Creole Shrimp Bisque with Shrimp Cracklin, Fennel Cream and Parsley Oil. - Chef Amy Sins
New Orleans, LA (PRWEB) April 14, 2014
On Tuesday, April 8, the American Culinary Federation — New Orleans (ACFNO) presented Amy Cyrex Sins, Chef/Owner of Langlois Culinary Crossroads, with a 2014 Best Chefs of Louisiana Award in the Up and Coming Chefs category. With this award, Amy, an international award-winning cookbook author and reality cooking competition winner, joins a talented roster of 30 chefs from a range of restaurants and catering operations. The chefs were recognized at the annual Best Chefs of Louisiana event at Generations Hall, benefitting ACFNO's culinary scholarship program and Children's Hospital's Emergency Transport Program.
"Best Chefs of Louisiana is a prestigious award by the top culinary organization in the country, and I am honored to be included," said Amy Cyrex Sins, Chef/Owner of Langlois Culinary Crossroads. "We've had an incredible year at Langlois, and we look forward to building upon this momentum in the months ahead. Our mission centers around celebrating our region's Cajun/Creole culinary roots."
Launched in November 2012 by Louisiana native Amy Cyrex Sins, Langlois Culinary Crossroads is an innovative New Orleans-based dining experience combining the quality of a restaurant with the style of a cooking school. Under Amy's leadership and guidance, Langlois has been named one of the "Best Cooking Schools Around the World" by Travel & Leisure, in addition to major recognition by Bloomberg Businessweek.
Amy and her talented team of local chefs offer the highest-quality level classes, each with a personal opportunity to learn about cooking techniques and the area's rich Cajun/Creole culinary history. Also on tap are Iron Chef-style cooking competitions, corporate team building activities, hands-on cooking classes, and private dining events for groups of all sizes. In addition to enjoying an array of tasting menus and wine pairings, participants even get to take the restaurant-style recipes home so they can impress their friends and family with a not-so-home-cooked meal in the future.
This spring Langlois offers a range of lunch, dinner, and brunch classes, and classes this month incorporate elements of the traditional cuisines making up Creole cuisine: French, Italian and German. Also new are Ferrara Fridays, a cocktail, appetizer and dessert class, teaching guests how to concoct the perfect sazerac, New Orleans' signature cocktail. This event is named for the resident ghost that resides in their building, a turn-of-the-century Sicilian market originally called Ferrara & Sons.
Join the fun by reserving a class at http://www.langloisnola.com or by calling 504-934-1010. All classes are by reservation only.
About Amy Cyrex Sins
Chef Amy is a born-and-raised South Louisiana girl with Cajun and Creole cooking embedded in her culinary DNA. The region serves as her pantry and she cooks with passion and enthusiasm using native ingredients and local food traditions – from boucherie to bayou, rice fields to roux, cypress-filled swamps to seafood fished from Gulf coastal waters.
Chef Amy Sins is a Louisiana native driven to preserve the unique culture and cuisine of the place she calls home. As owner and chef at Langlois Culinary Crossroads, Amy fosters a greater understanding of and appreciation for the Creole and Cajun culinary traditions through hands-on educational classes for people of all skill levels. Even the space is a nod to the culinary history of the region, being housed in a converted grocery store in the Marigny neighborhood of New Orleans.
When not teaching at Langlois, Amy hosts The Chef Show, a weekly radio program on WRBH 88.3 FM.
In 2005, Hurricane Katrina threatened the South Louisiana way of life, Amy moved quickly in doing her part to preserve the region's food and culture. She wrote Ruby Slippers Cookbook: Life, Culture, Family and Food after Katrina, an international award-winning cookbook celebrating the local food and stories of life immediately following the storm.
In less than two years, Langlois has received local, regional and national praise, most recently by Travel & Leisure as one of the "Best Cooking Schools Around the World." Chef Amy was recently nominated by the prestigious American Culinary Federation "The Best Chefs of Louisiana 2014, Up and Coming Chefs." In 2012, she also competed and won a reality show cooking competition on GSN's, "Beat the Chefs."
About Langlois Culinary Crossroads
Built inside a turn-of-the-century Italian market in the history Marigny neighborhood, Langlois Culinary Crossroads is a next-generation New Orleans dining experience, combining the quality of a restaurant with the style of a cooking school. Currently celebrating its one-year anniversary, Langlois offers hands-on and demonstration Cajun/Creole cooking classes, private dining events, and team building activities. For more information and to book a class, visit http://www.langloisnola.com.
For more information about the Best Chefs of Louisiana event, visit: http://www.acfno.org.