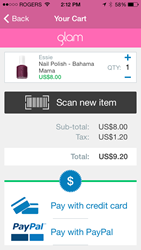 Toronto, Canada (PRWEB) April 23, 2014
Digital Retail Apps today announced in-market results from its shopper self-checkout app, SelfPay, launched on December 6 with retail partner LUX Beauty Boutique. Launch weekend saw 7% of all in-store transactions flow through the SelfPay mobile app and higher than average transaction values when compared to purchases completed at the cash register. Reports also show that the self-checkout app attracts the majority of new users during times when LUX is busiest and lines are long.
Since launch, LUX Beauty Boutique has reported the following results:

On the retailer's busiest shopping day this month, which was also LUX's 14th anniversary, SelfPay transactions were 17% higher than credit card transactions and 28% higher than all digital transactions including debit and credit card transactions made at the cash register.
During the same shopping day, SelfPay was used for 14% of all in-store credit card transactions and saw a jump in new user sign ups.
Up to 78% of SelfPay transactions during this busy period represented new user accounts.
When faced with long lines at checkout and busy store associates, shoppers will not only download SelfPay but will also spend significantly more than they would have at a cash register after waiting in line to pay.
A 2013 Visa US Consumer Payment Panel Study stated that Visa purchases are on average 45% larger than debit purchases. Credit card purchases through SelfPay are also larger than debit card transactions. A key takeaway from these results is that SelfPay sees further gains over these already larger credit card transactions; the use of a credit card in SelfPay saw an average 17% purchase size increase over other credit card purchases. SelfPay's results are expected to improve further in Q2 when Digital Retail Apps will launch an Android version of SelfPay to coincide with its in-market iOS7 mobile app.
Digital Retail Apps' SelfPay is a mobile solution that gives shoppers the ability to shop and pay from anywhere in-store on their own mobile device. SelfPay recognizes when shoppers are located in-store by using a combination of location services and our newly introduced Beacon integration. Once located in-store, shoppers scan and add items to their in-app cart, view product details and pay directly on their own mobile device using a saved payment method. When in-store, SelfPay only displays the supported retailer's branding, items, pricing together with the merchants' accepted payment methods.
In addition to credit cards, Digital Retail Apps recently added PayPal as an accepted payment method. The company has plans to introduce additional payment methods and ewallets to SelfPay. SelfPay's is positioning itself as an in-store wallet aggregator which provides retailers and shoppers with frictionless payments integrated with the retailer's POS and payment processor. For merchants, SelfPay offers a patent-pending verification method to confirm the in-aisle transactions were successful and insight into the shopping and paying patterns of their shoppers using SelfPay.
"Our goal is to enable friction-free commerce for consumers and give our brick and mortar retail partners a big sales boost from deploying SelfPay," said Wendy MacKinnon Keith, CEO & Founder, Digital Retail Apps. "We are thrilled with the early results and look forward to working with the LUX Beauty Boutique team to turn app users into ongoing, loyal customers."
"SelfPay is great for shoppers. We promote it during slower periods precisely so that during busier times, shoppers are aware of it, we don't lose sales, and provide a better shopping experience. Once implemented, SelfPay will pay dividends time and time again," said Jennifer Grimm, Owner, Lux Beauty Boutique.
Digital Retail Apps will showcase the latest edition of SelfPay at Finovate Spring in San Jose, CA on April 29. The company will be present throughout the event to demo live SelfPay transactions and the mobile app's POS and payments integrations. SelfPay can be downloaded today from the Apple App Store or at http://appstore.com/selfpay.
About Digital Retail Apps
Digital Retail Apps is a private company focused on providing retail shoppers with completely seamless shopping and payments. The company's flagship mobile app, SelfPay, changes retail by giving shoppers the ability to shop and pay from anywhere in-store directly on their own mobile device. From online to in-store and browsing to payments, SelfPay unifies a fragmented brick and mortar shopping experience and provides an in-aisle shopping solution that is always where the shopper is; across multiple retailers, carriers, devices and payment methods. Wendy MacKinnon Keith, previously with The MAC Group/Gemini Consulting and Chicago Strategy Associates, founded Digital Retail Apps and is the named inventor on the patent application covering DRA technology. Julian Paas, CTO is named as an inventor on forty patents and was previously leader of the User Experience team at RIM.
About Lux Beauty Boutique
LUX Beauty Boutique is Edmonton's original apothecary devoted to the hot, hard-to-find beauty brands loved by celebrities, editors and product junkies. Since 1999, the LUX team has emphasized the shopping experience, deeply understanding that consumers are searching for more than just product. LUX anticipates and responds to clients' expectations, values and unspoken needs through superior service and strategy. With a forward-thinking retail team, a sought-after product mix, and deep community connection in a beautiful, well-planned retail environment, LUX Beauty Boutique sets itself apart.
TRADEMARKS: The SelfPay word mark and Digital Retail Apps "bag" logo are both trademarks of Digital Retail Apps.