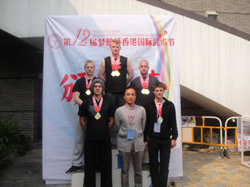 Yantai, China (PRWEB) April 29, 2014
Since 2002, leaders of the Hong Kong Wushu International Championship have been asking China's most prestigious kung fu schools to compete in their annual martial arts competition. Kunyu Mountain, a Shaolin kung fu school in China, was invited to attend in 2014 and five of its students won a gold medal. Types of martial arts that students won gold medals for include shaolin forms, weapons, and wing chun.
The five gold medals won for the school were won by five students from five different countries. The winners are pictured, first row, left to right: Nick Mensink, Holland; Wing chun and Chi kung Master, Master Guo, of the Kunyu Mountain School; Jeremy Dominique Boulet, France; second row, left to right: Felix Schiffarth, Germany; Erik Steven Pedersen, United States; and Matthew Gough Gubbins, UK.
The competition took place inside the Ma On Shan Sport Centre and other Kunyu Mountain students won silver medals for the school. You can learn more about the annual competition by visiting the official website of the Hong Kong Wushu International Championship.
Company/Organization Info:
Kunyu Mountain, located 50 kilometers southeast center of Yantai, China, is a kung fu training school that provides instruction to students worldwide. The school is run by traditional Shaolin monks and offers training routines that span anywhere from one month to a year. In addition to teaching traditional Shaolin kung fu, masters at the school also teach Wing Chun, Tai Chi, and Chinese kick boxing. People interested in learning kung fu and other Chinese martial arts can apply to Kunyu Mountain today. The school currently has a 4.5-star rating on Trip Advisor.
Photo: First row (left to right): Nick Mensink, Holland; Wing chun and Chi kung Master, Master Guo, of the Kunyu Mountain School; Jeremy Dominique Boulet, FranceFelix Schiffarth, Germany; Erik Steven Pedersen, United States; and Matthew Gough Gubbins, UK
Second row (left to right): Felix Schiffarth, Germany; Erik Steven Pedersen, United States; and Matthew Gough Gubbins, UK