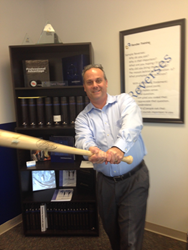 This two hour program gives attendees a few golden nuggets on how to improve sales results. It also serves as an entree into the world of Sandler Training.
Princeton, NJ (PRWEB) April 29, 2014
Sandler Training in Princeton,NJ is pleased to offer a 2-hour sales training event. This program will take place at the offices of AGT & Associates Inc., an authorized Sandler Training Center, at 782 Alexander Road, Princeton NJ.
Attendees typically range from Senior Level Sales People, Sales Managers to Business Owners.
The program will take attendees through an interactive session to see what types of opportunities exist within their sales world. David Trapani, CEO of AGT and Associates Inc. and a Sandler Certified Instructor, will be leading the program.
"Sales is not easy and typically the buyer takes the lead role during the sales process", Trapani shared. "Ideally, the interaction between a buyer and seller should be conversational and on an equal level, we will discuss several ways to enhance that type of relationship", he added.
The program, Break the Rules and Close More Sales, will be held on Friday May 30th, between 11:30a - 1:30p. The session is held at 782 Alexander Road, Princeton, NJ. Seating is limited, attendees must pre-register for this session.
About AGT & Associates Inc.
AGT & Associates, Inc. is an award winning authorized Sandler Sales Training Center in Princeton, NJ. AGT & Associates Inc. bring over 23 years of sales, marketing and management experience. Their focus is to help sales people and sales managers gain an edge to move their business to the next level. As a Certified Sandler Trainer, they teach their clients in the Sandler Success beliefs of Behavior, Attitude and Technique.
About Sandler Training
David H. Sandler developed the Sandler Selling System® methodology, an innovative, non-traditional selling system, in the late 1960s, and created the concept of 'reinforcement training' to support it. From that foundation, he went on to create a series of proven sales training programs for small- and mid-sized companies and Fortune 500 corporations, and founded the Sandler Sales Institute®.