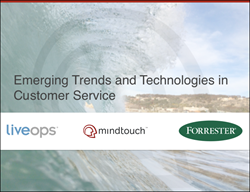 "I just couldn't wait to speak with Art Schoeller from Forrester Research and Ann Ruckstuhl from LiveOps at ICMI"
San Diego, CA (PRWEB) May 08, 2014
MindTouch, the company that leads the universe in powering customer success, will be speaking at the ICMI Contact Center Expo and Conference alongside an illustrious panel of thought leaders who may or may not have been sent from the future. Driven by an insatiable need to rescue humanity from poor customer service, these intrepid daredevils have managed to funnel their vision and wisdom about industry trends and emerging technologies into a bite-sized, webinar - conveniently pre-recorded - a mere week before their slated panel discussion at ICMI.
"I just couldn't wait to speak with Art Schoeller from Forrester and Ann Ruckstuhl from LiveOps at ICMI," states Aaron Fulkerson, CEO and Co-Founder of MindTouch, "these two have so much experience to share that I felt it would be best to have a sit down to discuss the latest trends in the contact center and customer success software space beforehand. Turns out, I was right. We had an amazing conversation laden with inspiring infographics and exciting statistics about ROI, Customer Effort Scores (CES), Net Promoter Scores (NPS), Total Costs of Ownership (TCO) and Time to Value (TtV)".
MindTouch, Forrester Research, and LiveOps is expected to not only deliver an exhilarating panel discussion at ICMI today, but also release a down and dirty, myth crushing, totally wild webinar about "The Future of Customer: Emerging Technologies and Multi-Channel Care." We expect this webinar to fly off its metaphorical shelves, so - jump aboard - and get it now: http://mndt.ch/icmi2014 ! The first 100 registrants will receive this webinar, which is seriously pretty great, and chock full of real-world statistics and case studies from real customers - for free (some limitations may apply--limited time offer). Learn best practices and how you can turn your users into experts, empower them to become brand advocates, lower the costs of running your contact center, and ultimately increase meaningful lead generation.
About MindTouch
MindTouch, Inc is a provider of cloud based customer success software. MindTouch is transforming how businesses drive customer success by empowering them to capture and serve knowledge to their customers in new ways and by creating insight from customers' behavior. MindTouch creates shorter sales cycles, increases organic site traffic, and turns new users into experts and brand advocates.
MindTouch is used by millions of people every day. Industry leaders like Intuit, Remington, Hewlett-Packard, Verizon, SAP, Zuora, MakerBot, SilverPop, Kenworth Trucks and RSA Security rely on MindTouch to support their customers' success. Read more about MindTouch here: http://mindtouch.com.