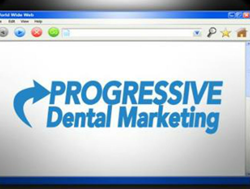 Dunedin, FL (PRWEB) May 08, 2014
Progressive Dental Marketing recently added seven new staff members to its expanding team in Dunedin, FL. The full-service marketing firm specializes in the creation and implementation of customized campaigns designed to convert high-dollar cases for dental clinicians.
At present, Progressive Dental Marketing (PDM) serves over 300 dental professionals across the country and abroad. CEO Bart Knellinger determined that the latest staff expansion was necessary to keep pace with the monthly clientele increase and maintain the quality of service that has been instrumental to the firm's rapid growth. In addition to Washington, DC and the Virgin Islands, PDM currently supports the marketing needs of dental professionals in 38 out of the 50 states. In February, PDM signed its fifth international client.
The most recent hires at Progressive Dental Marketing include account managers, sales agents, an executive assistant, and a web developer. Veronica Makowski, one of the account managers, will also serve as Director of Operations for "Zeize the Meeting," a new service designed to serve as an inspiring alternative to standard staff meetings for the dental practices the firm serves. Like many of the firm's staff members, Makowski's professional background includes a combination of dental industry experience and marketing expertise; in her dual roles at PDM, Makowski will draw from over a decade of experience working in the clinical, management, and marketing arenas of private dental practices and corporate dental offices.
Progressive Dental Marketing provides customized dental marketing and dental consulting solutions to clients across the industry, including periodontists, endodontists, prosthodontists, pediatric dentists, and oral surgeons. To learn more about the company's full-circle marketing services, please visit http://www.ProgressiveDentalMarketing.com and call (727) 286-6211 to schedule a complimentary dental marketing consultation.
About the Company
Progressive Dental Marketing (PDM) has "changed the game" in regards to marketing for high dollar surgical cases by implementing a Full-Circle Marketing™ approach. PDM is the leading dental marketing company for attracting targeted patients through online marketing, seminars, direct mail, TV, radio and referral programs. The majority of clients will see an eight to ten ROI the first year and staff members are ready to handle the increase in new patient calls with ongoing consulting and training. PDM maintains a 97 percent client retention rate, which is leading by a large margin among dental marketing companies! PDM is based out of Dunedin, FL and always offers a complimentary initial marketing evaluation. The staff includes dedicated account managers and consultants who are available to answer any and all questions. To learn more about PDM, visit their website at http://www.progressivedentalmarketing.com and call (727) 286-6211.