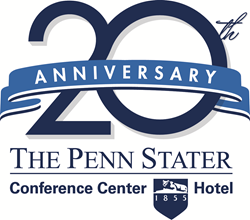 If the goal is to make things better for the commonwealth, this is a shining example. That's why we're here. — David L. Lee, associate professor of special education
University Park, PA (PRWEB) May 12, 2014
Twenty years ago, Penn State opened the doors of its new state-of-the-art conference center, the future Penn Stater Conference Center Hotel. Days later, the center welcomed guests to its first conference.
"Within a year, we had conferences from most of the colleges," said Mike Ostroski, Penn State's director of Conferences and Institutes for 18 years. "That was the purpose — to highlight the academic strength of Penn State. It was planned and executed as a place where faculty could highlight their research."
The center, which opened in May 1994, was envisioned as a bridge between academia and the outside world as part of the University's land-grant mission of teaching, research and public service. "It's about the creation and dissemination of knowledge in a variety of ways, not just in the classroom," said Jim Ryan, vice president emeritus for Penn State Outreach.
The center has hosted major conferences on a wide range of subjects over the past two decades — from autism and emissions testing to alternative health and civil rights. Notable conference guests have included President Bill Clinton, who attended the National Governor's Conference in 2000, Deepak Chopra and alternative health guru Andrew Weil.
The center, built at a cost of $43 million, was originally operated by the Scanticon International management company and called the Penn State Scanticon Conference Center Hotel. In 1997 it was brought under university management and renamed The Penn Stater.It was the largest conference center at a public institution when it was built — able to host conferences of more than 1,000 people — and with room outside for attendees to set up large equipment such as the smokestacks that are a feature of the annual Visible Emissions Training Program, or "Smoke School." "We were used as an example throughout the country on how to do conferencing," said Ostroski.
Also appearing at the 2000 governor's conference with Clinton were Alan Greenspan, Colin Powell and 40 of the nation's governors. Ostroski remembered heavy extra security, including police on the roofs.
In June 1994, just a month after opening, the conference center hosted the first International Distance Education Conference.
"What happened at the conference provides a glimpse — a vision — of the future of higher education, and indeed, of education generally," education professor emeritus Michael G. Moore, founder of the American Center for Study of Distance Education, wrote at the time. "We have stimulated the first thinking about what is, without doubt, to be a frontier of new development in the decade ahead."
The Mid-Atlantic Association of Forensic Scientists held its annual conference at The Penn Stater in May 2010 and will do so again this year. Discussions at that conference strengthened ties between Penn State's Forensic Science program and the Pennsylvania State Police, leading in the past year to internships for Penn State students in state police labs, continuing education for state police scientists and law enforcement personnel, and collaborative research, according to Mitchell Holland, director of the Forensic Science program.
The National Autism Conference, now in its 18th year, draws thousands of educators, parents and students to Penn State each year. David L. Lee, associate professor of special education and director of Penn State's Applied Behavior Analysis program, said the autism conference and other conferences are a great example of the University's land grant mission.
"If the goal is to make things better for the commonwealth, this is a shining example," he said. "That's why we're here."