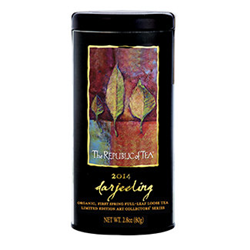 NOVATO, CALIF. (PRWEB) May 15, 2014
The Republic of Tea, leading purveyor of premium teas, is thrilled to announce the arrival of its 2014 FIRST FLUSH DARJEELING FULL-LEAF ORGANIC TEA, the 12th tea introduced in an exclusive series from The Republic of Tea's Tea Gallery Collection. Carefully selected from the premium tea plants of the Jungpana Estate, one of the oldest plantations in the western Darjeeling valley, this rare, organic, black tea is prized for its superior quality and young leaves that yield the most delicate of flavors.
The first flush, or first plucking, of spring in Northern India's famed tea-growing region of Darjeeling captures the essential oils that lace these fresh, aromatic tea leaves with radiant, delicate flavor. This Gluten-Free, Kosher Certified tea infuses a bright, light-bodied cup with notes of musk. These silver-tipped organic tea leaves bring forth lovely floral aromas and a sweet, lingering finish. This tea is of such superior quality that limited quantities are expedited via air-freight so that citizens may enjoy this extremely fresh, special reserve first flush tea regarded by many as the ultimate tea experience.
To celebrate the first plucking of 2014, The Republic of Tea hosted an artwork contest, inviting artists all over the world to develop and submit original work that best represents what The Republic of Tea means to them. In honor of this year's harvest, the 2014 FIRST FLUSH DARJEELING FULL-LEAF ORGANIC TEA tins feature artwork created by artist and first place winner, Karen Hollowell of Vancouver BC.
The 2014 FIRST FLUSH DARJEELING FULL-LEAF ORGANIC TEA is available in a full-sized recyclable 3.5 oz. (100 g) tin (steeps 50-60 cups) and has a suggested retail price of $25. It is available for purchase nationwide through the company website (http://www.REPUBLICofTEA.com) and by calling 800.298.4TEA (4832).
About The Republic of Tea:
The Republic of Tea enriches people's lives through its premium teas, education and innovation, as it emphasizes a "Sip by Sip Rather Than Gulp by Gulp" lifestyle. Founded in 1992, The Republic of Tea sparked a specialty tea revolution. Today the brand offers an unequaled selection of the highest-quality teas, herbal blends, books and nature-inspired sip ware, available exclusively at specialty retailers throughout the U.S. Further, The Republic of Tea is mindful of how its actions impact the greater community and actively supports worthy organizations like the Whole Planet Foundation, the Prostate Cancer Foundation, Room to Read, Action Against Hunger, The Ethical Tea Partnership, Rainforest Alliance certification and Non-GMO Project verification. For more information, please visit http://www.REPUBLICofTEA.com or call 1.800.298.4832. Follow The Republic of Tea on Twitter at twitter.com/republicoftea and Like us on Facebook at http://www.facebook.com/RepublicofTea.